Create new sounds, break new ground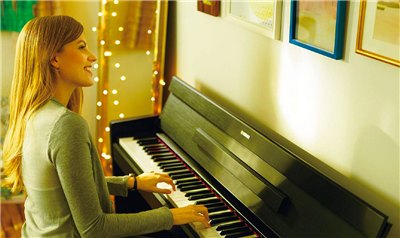 Every song begins with a note, all you need to do is play it. A note then becomes a melody, and a melody becomes a composition. With Yamaha digital pianos, literally anyone can learn to play, note by note.
If not now, when?
Anyone can learn to play - young or old, there's no limit.
Children learn through play, while the piano can help adults to experience a unique sense of achievement away from everyday life. No time or experience? No problem! Just a few minutes of music each day can bring real happiness. Even those who can't read music can excel on the piano because ultimately talent is all about passion!
There's no time like the present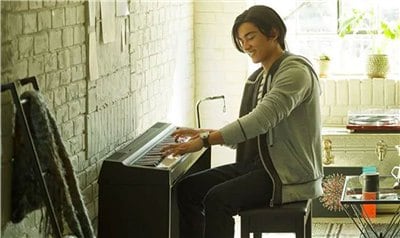 Few things in life are as exciting as learning an instrument. Afterall, playing music brings variety to life and allows you to develop skills like attention, creativity and memory as you immerse yourself in a world of inspiration.
There's no better time to enter the world of music. Yamaha's digital pianos are as innovative as they are versatile, making them ideal for those just starting their musical journey.
Yamaha digital pianos allow beginners to become accomplished players
For the spontaneous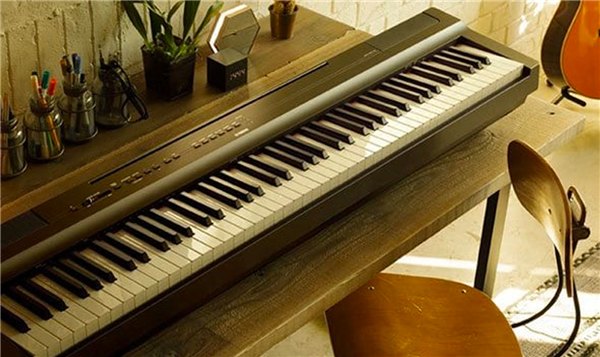 The portable P-Series from Yamaha is the perfect introduction to the world of piano playing: the digital pianos are easy to transport and deliver an extremely high-quality sound at the same time. Models like the P-121, P-125 and the P-515 are compact and easy to use.
P-125 has an impressive streamlined design, with special attention being given to the perfect combination of minimalist look, user-friendliness and piano touch. The natural piano sound therefore impresses wherever and whenever it is heard.
P-515 is true portable luxury: the elegant design combined with the refined Natural Wood X keyboard makes an eye-catching centrepiece in any home. The sound delivers what the look promises, having been captured from the famous Yamaha CFX and the Bösendorfer Imperial concert grands. P-515 also offers a further 500 instrument sounds. Piano touch and sound selection – incredible!
For minimalists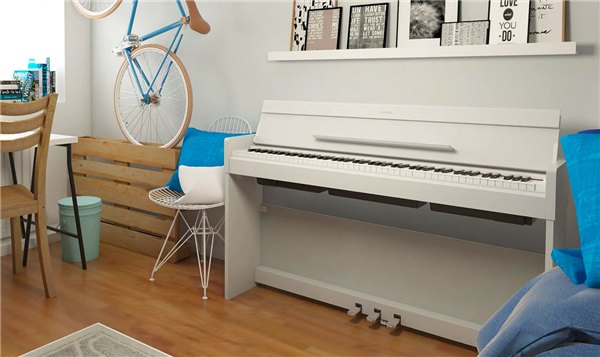 What if space is limited? Arius YDP-S34, for example, is ideal for smaller spaces thanks to its compact design – and it even looks like a stylish piece of furniture. The 88 Graded Hammer Standard keyboard also enables traditional piano playing, while the sound is based on Yamaha's legendary flagship CFX model.
Yamaha combined over a century of experience with advanced technology and both are reflected in the YDP-164. Despite its ultra-slimline design, YDP-164 offers a playing experience and sound reminiscent of a grand. Thanks to its Intelligent Acoustic Control (IAC), the piano has an impressive, balanced acoustic even at low volumes. Thanks to the Stereophonic Optimizer, playing with headphones is also something of an experience.
For the discerning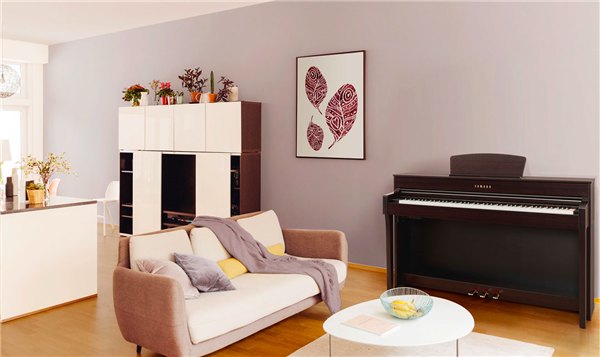 Yamaha's Clavinova series offers premium digital pianos, with a nuanced and dynamic sound that was influenced by two famous concert grands: the Yamaha CFX and the Bösendorfer Imperial. CLP series Clavinova pianos will inspire any piano player, from curious music lovers to discerning pianists.
The CLP-645 captivates thanks to its clear high end, powerful bass and outstanding dynamic response, while the Natural Wood X keyboard, including real wood elements, ensures an authentic piano touch.
The CSP series with its variety of instrument sounds and automatic accompaniments is ideally suited for beginners and those who want to practise playing together with other musicians right from the word go. The Smart Pianist app enables intuitive use and makes playing easier than ever before. In addition to this, descending Stream Lights show which key needs to be played next. The CSP-150 can help make your dream of playing the piano a reality in no time!
For the ambitious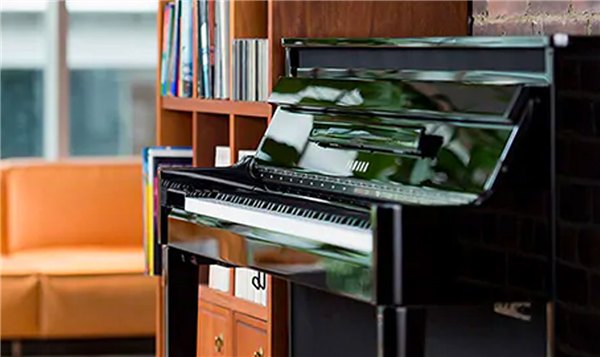 The Yamaha AvantGrand series offers the best of both worlds, combining the real key mechanism of a piano with innovative digital sound generation. The AvantGrand NU1X, for example, shines thanks to its authentic acoustic piano feel whilst still achieving an extremely compact design and offering an array of digital features, such as connectivity to the Smart Pianist app.
The top model in the Clavinova CVP-800 range, CVP-809, can hold its own with a top-class concert grand when it comes to expressiveness. At the same time, it offers hundreds of other instrument sounds as well as accompaniment Styles and digital features, which facilitate composing and arranging amongst other things. The CVP-809 can even emulate entire orchestras. While the GrandTouch keyboard faithfully reproduces the piano feel of an acoustic grand, the large touch display provides visual support and ensures easy operation.
Simply learn and start playing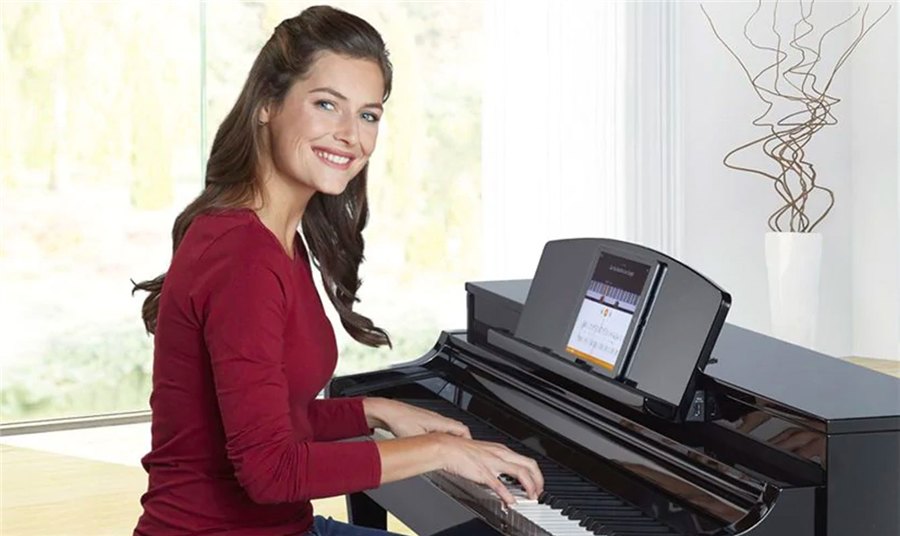 Play a whole song on the new digital piano from Yamaha within just a few minutes? With the 'flowkey' app, it's child's play!
flowkey is one of the world's best known apps for learning to play piano and keyboard – perfectly coordinated to your own playing level and tempo. With the combination of a Yamaha instrument and flowkey, there are countless song tutorials and courses available. The app charts your individual progress and gives you immediate feedback.
What's more, anyone buying a Yamaha digital piano or Yamaha keyboard by 31st March 2020 will be able to access the premium version of flowkey free of charge for three months. Simply register your instrument with Yamaha and redeem your personal voucher code!