The Story of Guitar Heroes
Jimi Hendrix, Eric Clapton, Hank Marvin, Brian May and Slash are just some of the legendary guitar heroes you will experience when the exclusive The Story of Guitar Heroes with Yamaha and Line 6 come to PMT Birmingham and Manchester.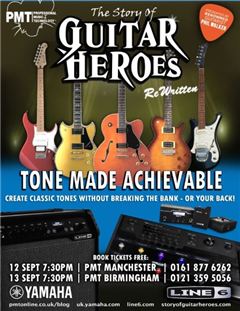 In an exclusive collaboration with Yamaha Line 6 we go back to the future, rewriting history whilst showcasing the future of guitar playing. This time we've added a creative twist to our acclaimed live show which now features the best of vintage and modern Yamaha/LINE 6 electric guitar models AND we have supercharged our much loved LINE 6 back-line with the ground breaking HELIX systems.
You'll get to see us perform parts of our show, demonstrating how Yamaha/LINE 6 can accurately recreate sounds from 1950's right through to the most inspirational modern guitar heroes of today. Hank Marvin to Jimi Hendrix, Brian May to Joe Satriani... these are just some of the guitar heroes featured... in a homage to the mastery, skill and versatility of these guitar giants; this spectacular event illustrates how genius married with cutting edge technology creates magic in music!
It'll be an evening of entertainment and discovery as we unlock the secrets of the guitar tones of the stars and show how you can achieve them too – without breaking the bank or your back - whether you're practising, recording or playing live.
They'll be plenty of opportunities between the performances to get hands on, ask the experts and try for yourself.
Outstanding/renowned guitarist, Phil Walker and his band, currently touring the UK with their incredible and widely acclaimed show - The Story Of Guitar Heroes, joins us at PMT.
These are free events, however, you must register your place to attend the show to ensure we do not reach the stores' maximum capacities.
• Date & Time: Tuesday 12 September, 7:30 PM
• Address: The Red Rose Centre, Unit 5, Regent Road, Salford M5 3GR
• Date & Time: Wednesday 13 September, 7:30 PM
• Address :136 Lawley Middleway, Birmingham, B4 7XX
Guitar Heroes - Guitar List
SGV800 (The Doctor Who guitar): Yamaha began making the SG3, SG5, and SG7 electric guitars in the Hamamatsu factory in 1966. These guitars had a futuristic vibe and featured radical curves, extended headstocks and multiple switches. These early Yamaha electrics were quickly adopted by Japanese bands who played surf music, popular at that time. The 90's saw a revival of these guitars which prompted several reissues to be made including the SGV800. The "V" was added for "Vintage" and modern hardware added including rolling bridge saddles and locking tuners. In 2014 the SGV800 was chosen by Peter Capaldi (Doctor Who) seeing it as the perfect guitar for a Time Lord – timeless design indeed!
SG3000: The Yamaha SG was conceived in 1974, and evolved into a quality top spec guitar thanks to a collaboration with Carlos Santana. Early models featured bolt on necks and flat tops. But the high end SG2000 used by Santana was a thru neck with a brass block under the bridge for endless sustain. These models were infinitely better than the 70's Gibson's at the time and were used by Bob Marley, Robben Ford, and Santana himself. The SG3000 was as good as gets, with detailed mother of pearl and abalone inlays, all gold hardware and abalone body binding.
Pacifica USA1 Custom: The USA1 was released in 1995 and were the first and only custom Yamaha guitars manufactured by Yamaha Guitar Development in our artist services custom shop in Hollywood, CA. Our amazing example is a unique workshop project featuring custom 'potted component' inlays, strawboard top, checker plate control panel, birdseye maple neck, Ebony fingerboard and Yamaha custom pickups.
AES1500: When Yamaha opened the U.S Custom shop, the Yamaha Guitar Development (YGD), in 1990, it was an opportunity to extend the reach of the arch top line. The designers at YGD began working on designs with Yamaha Japan that would eventually evolve into the AES1500. The AES1500 would become a huge favourite for guitarists, the hollow body construction and the Bigsby on the AES1500B, made it a great choice for rockabilly players.
AE2000: The AE2000 was released in 1976 and represented a step towards a real high end arch top. It featured a rich sunburst finish, elegant tailpiece and ornate headstock inlay. It had the look and vibe of the best Jazz guitars on the market and turned heads in a market dominated by American guitar companies. It can be seen in the hands of The Edge in the U2 video "with or without you".
SA2200: The SA2200 was the first Yamaha semi-hollow body guitar to truly appeal to top professional players. Robben Ford, Carlos Rios, and Tommy Tedesco all were seen onstage with a Yamaha SA. The design hasn't changed since the late 70's.
PAC1611MS: Yamaha approached Mike Stern in the late 90's with the idea of building him a signature guitar. His original Tele was from Danny Gatton, who got it from Roy Buchanan. This was stolen and a replica produced. Stern worked closely with YGD and after several prototypes he was happy with the final design. The guitar features Seymour Duncan pickups and a vintage neck radius. The new PAC1611MS has A.R.E treated woods.
JTV59: Released in 2008 the Line 6 JTV-59 James Tyler Variax reflects the innovative designs of James Tyler. Acclaimed for his attention to detail in making custom, hand-crafted instruments for the most discerning players. The JTV-59 is 25 guitars in one. On board are State-of-the-art models of 25 immortal instruments and 12 different tunings.
BBNE2: Nathan East has appeared on countless albums and has toured with some of the biggest names in modern music. In the mid 80's Nathen East discovered the Yamaha BB3000 and has used Yamaha basses ever since. In 2001 the BBNE2 his latest signature bass was released, Featuring a laminated thru-body design with Custom 3-Band Active EQ and custom inlays.
ATT3: Billy Sheehan has used Yamaha Basses since 1990, and has had several signature models. His latest model features Yamaha Custom Woofer and DiMazio WillPower Pickups. A.R.E. and I.R.A. treatment and Hipshot "D" Tuner. His original design for the attitude was based on his own P Bass which had been heavily modified. All the control knobs and scalloped frets were carefully measured and added to his signature bass.
BBP34: Is the latest high end made in Japan Yamaha bass, this is the ultimate BB, featuring an Alder/Maple/Alder construction treated with Yamaha's unique IRA technology, a six-bolt miter neck joint, and a diagonally strung convertible bridge.
BB2004: Designed with a sleek, deep-cutaway body profile, this model had features that made Nathan East's BB-NE2 the deserved flagship of the BB range. The maple/mahogany through-neck gave great sustain and individual bridge assemblies for each string. It featured a 3 band active EQ and block inlays.
RS720B: Drawing inspiration from London and Tokyo's vintage street-racing motorbikes, Japan's heritage of engineering excellence and Yamaha's 50-year legacy of guitar craftsmanship, every detail of each Revstar model has been carefully engineered to bring out the unique personality of each guitar in the lineup. From the curves and contours of the ground-up body deign to the distinctive colour and finishes and custom wound pickups that perfectly match the guitar's character, the Revstar collection comprises of a diverse line-up of instrument as unique as the guitarist who play them. The style, feel and sound of the RS720B is unmistakably classic, however, no detail has been left to blind tradition. From totally unique pickups voiced to match the Bigsby vibrato, to re-imagined inlays from a vintage Yamaha guitar and the beautiful hand-cut finish, it's destined to become an instant classic.
Pacifica 112V: The Pacifica is probably, the world's most popular first electric guitar… but don't underestimate how far this high spec'ed, reasonably priced super-strat can take you. It may have redefined the values of what a starter's guitar should be, but in the right hands it can easily rock the roof off the world's biggest stages. First launched in 1990, the Pacifica series was driven by the Californian session scene of the day – where versatility, performance and individuality were key.
RGX420DZII: By 1987, Yamaha had developed their own version of the double-locking shred machines that were first brought to prominence by Floyd Rose and later popularised by the great Mr Eddie Van Halen: the RGX series. These were originally built in the Taiwanese factory and were massive hit with hard rock guitarists of the time. Today's RGX420DZII offers style and specification for aggressive players. The thinner neck is perfect for an intense guitar workout and the specially selected EMG, H4 humbuckers deliver clear, powerful, modern tone. The 24 fret models are equipped with double locking tremolos to supercharge your performance.