The Snarky Puppy Horns Join the Yamaha Artist Family
The Snarky Puppy Horns Join the Yamaha Artist Family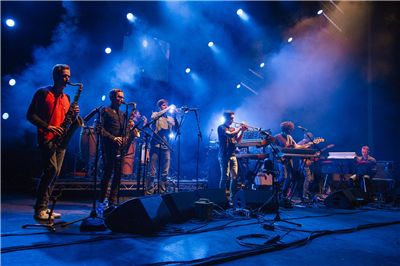 Yamaha Artist Services is pleased to announce the addition of the Snarky Puppy horns to the company's artist roster. Snarky Puppy, which just won its third Grammy in the last four years, is a 13-piece instrumental ensemble that plays an exciting and original blend of jazz, funk, R&B, and world music. Its horn section, which features Justin Stanton, Jay Jennings and Mike "Maz" Maher on trumpet, and Christopher Bullock on saxophone, is an integral part of the band's sound.
The reputation of Yamaha for designing and manufacturing quality brass and wind instruments was key to the players' decision to use its horns exclusively. "The primary reason for everybody was the consistency and level of execution by Yamaha in the development of its horns," says Stanton. "It's incredible. Playing in a section together has really helped us develop a sound that blends. Having everybody on the same brand of horn has helped us take that blend to the next level."
Becoming horn players in the Yamaha Artist Family meant they had a wide range of high-quality models to choose from. "We tried them out individually," recalls Stanton, "and then we picked one or two that we each liked, and sort of auditioned them for each other. It was funny because we all ended up choosing different horns."
Stanton picked the Xeno New York Artist model as his trumpet of choice. "It's very compact and focused-sounding," he says. "It's in tune from top to bottom, it's very balanced and technically it's really well designed."
Snarky Puppy was started by bassist/composer Michael League back in 2004, along with some fellow musicians from the University of North Texas jazz program. After college, the band spent 10 years in relative anonymity, relentlessly touring and recording until finally breaking through on the national scene in 2014, winning a Grammy for Best R&B Performance for the song "Something" featuring vocalist Lalah Hathaway.
After snagging the Downbeat Reader's Poll Jazz Group of the Year award in 2015, the band took its second Grammy last year for Sylva, which won for Best Contemporary Instrumental Album. This year, Snarky Puppy won once again in that same category for the album Culcha Vulcha.
The band has a busy schedule on tap for the first half of 2017, including performances at the inaugural GroundUp Festival in Florida, and the Kennedy Center in Washington DC. An international tour follows, taking them to Australia, New Zealand, Japan and all over Europe, before coming back to the USA to play at the famous Red Rocks Amphitheater in Colorado and the Newport Jazz Festival.
The Snarky Puppy Horns Join the Yamaha Artist Family