Yamaha's AvantGrand N3X: a fusion of old (acoustic) ideals with new (electronic) technology
Murray Mclachlan puts Yamaha's new AvantGrand N3X through its paces and discovers an instrument that packs the punch of a big-boned acoustic grand, combining traditional elegance with state-of-the-art technical wizardry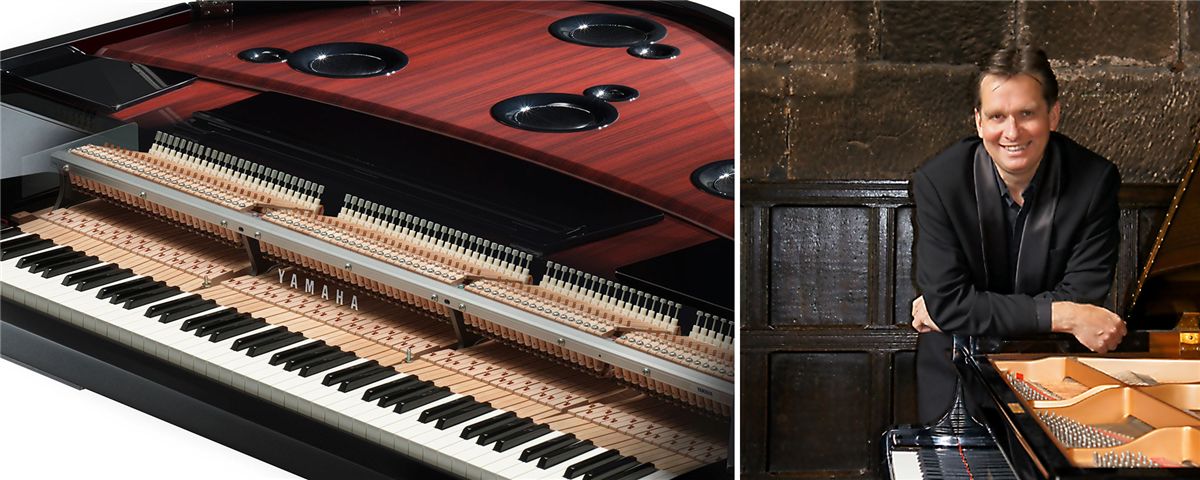 'What is most exciting and surprising about the new instrument is its tremendous improvement in sound production.'
I have been a great fan of Yamaha's AvantGrand instruments for many years. They belong to a unique species commonly referred to as 'hybrid pianos'. If that implies something ungainly and compromised, however, then the term does these pianos a disservice. The AvantGrand seeks to combine the beauty and precision of a traditional piano with the flexibility and immediacy of the electronic age. It is unquestionably an elegant product: a fusion of old (acoustic) ideals with new (electronic) technology. AvantGrands do not come cheap, but the quality of what they offer places them at the very top of the hybrid range.
Why bother with electronics at all, many pianists ask, when you can have a traditional acoustic instrument? While never pretending that digital pianos are 'better' than conventional pianos, I have always held the view that they have a significant and individual place in 21st-century musical life. They facilitate opportunities and possibilities that are simply not feasible on acoustic instruments. Most of these are practical: family homes are often small these days, neighbours complain about late-night practising, and piano tuners are expensive to employ regularly. Young pianists live in a digital word in which being able to record your own playing and having access to all sorts of technological enhancements are regarded as basic requirements rather than luxuries or gimmicks. Hybrid pianos provide the solution to all these needs.
Of course, technology is always developing, and hybrid pianos are constantly being upgraded. The older AvantGrand instruments were already extremely impressive, though they never really felt nor, if truth be told, sounded absolutely like a state-of-the-art acoustic grand. Nonetheless they offered an extremely close imitation of the real thing. It was comparatively easy to use flutter pedalling on them and their weighted action silenced critics who previously had dismissed all electronic instruments because they were thought to hinder the keyboard technique of young players.
Last autumn, I travelled to Yamaha's UK headquarters in Milton Keynes to try out the N3X for the first time. I gave a short recital that included Preludes and Etudes by Rachmaninov and Chopin. I was immediately taken by the aesthetic beauty of the inside of the piano, which is elegant and beautifully finished. The instrument itself looks like a small traditional piano, though it is much lighter to carry than a conventional Steinway, Bechstein or Bösendorfer. It uses fibre-optic sensors instead of strings, so naturally it does not need to be tuned, and it has a button to control the volume.
The action is weighted, the pedals responsive and the general feel of the N3X is comparable with a decent acoustic grand. However, I am in no doubt that the action and pedal mechanisms have become even more impressively similar to a top-quality acoustic grand. What is most exciting and surprising about the new instrument is its tremendous improvement in sound production. The N3X features two concert grand samplings: the Yamaha CFX and the Bösendorfer Imperial. It is up to the pianist to choose which piano to go for, and in my mini-recital, I opted for the CFX in Chopin and the Bösendorfer in Rachmaninov. It was exciting and inspiring to change from one to the other. In particular, the enormous resonance and depth of tone that was possible when using the instrument in 'Bösendorfer mode' made some of the biggest Rachmaninov climaxes unbelievably exhilarating to play: it really knocked me for six! It just seemed incredible that such a substantial sound could come out of an instrument that is so much smaller than a full-size acoustic concert grand.
N3X SPECS
The AvantGrand N3X has a specialised grand piano action with 'Ivorite'. Its superb sound has been achieved through spatial acoustic sampling, with sound sampled on four channels from the Yamaha CFX and Bösendorfer Imperial. Virtual resonance modelling (VRM), USB Audio Recorder and XLR jack outputs are included, as well as a specialised grand piano pedal. In terms of touch, pedal feel, reverberation and resonance, the N3X moves the hybrid piano forward to its most impressive level yet – an instrument ideally suited to modern lives and times.