Yamaha Music School partnership students provide the rhythm section for Jamie Cullum in the world's first 5G live lesson and performance
Yamaha Music School partnership students provide the rhythm section for Jamie Cullum in the world's first 5G live lesson and performance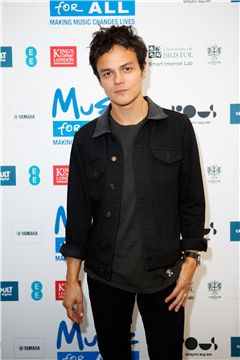 Two Young Musicians from Yamaha music education partners Severn Arts and Sandwell Music Services won places in Jamie Cullum's band for the world's first 5g music lesson on 25th June, an event with an amazing Tech-Twist.
On 25 June Jamie led the lesson, in aid of the UK's Music for All charity. The event provided a huge boost for the 6 young ( as yet) amateur musicians and demonstrated the role that 5g may play in the future of music education globally.
20 year old bassist Alyson Knott from West Bromwich, a music degree student was a pupil with Sandwell Music Services and started her musical journey as a student on the Play for Keeps course at a Yamaha Music School in Walsall whilst drummer Jakob Terry came through Severn Arts in Worcester, he's a member of Worcestershire Youth Jazz Orchestra and currently is with Royal Birmingham Conservatoire Juniors and The National Jazz Collective. Both Severn Arts and Sandwell Music Services are long-standing Yamaha music education partners.
Both won their places in an open online audition with all musicians selected by Yamaha artist Jamie Cullum personally.
Jakob and Alyson will played alongside backing vocalists Lexi Milligan and Rosie Patton and were joined by guitarist Jeremy Vevif and Taylor Paisley - French on keyboards.
The Tech Twist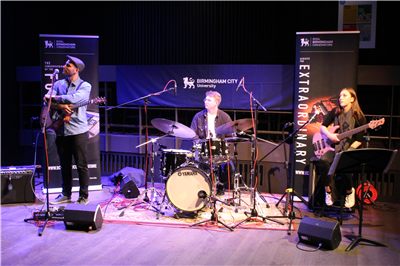 Here's the amazing tech- twist, Jamie performed in London's Roman Amphitheatre, whilst members of his newly appointed band performed live via 5g from locations in Bristol and Birmingham. They performed tracks with Jamie from his recently released and critically acclaimed new record 'Taller'. Throughout the event Jamie coached his fledgling band on the music, ensuring they received a potentially life-changing music education experience.
Yamaha's education manager Nigel Burrows said "Our Music Hubs and Service partnerships are gaining momentum as we expand our portfolio throughout the UK. Because of severe restrictions on funding and a challenging situation for most services' partnership is a creative way forward. We share a passion for good quality music education and combining our joint expertise and skills improves the offer to all students whether they are studying in Primary or Secondary Education. We are delighted to be working with both Sandwell and Severn Arts who are just two of our growing number of partnership projects. "
Yamaha Music School partnership students provide the rhythm section for Jamie Cullum in the world's first 5G live lesson and performance