Luke Juby Synth Sessions 2019
Luke Juby Synth Sessions 2019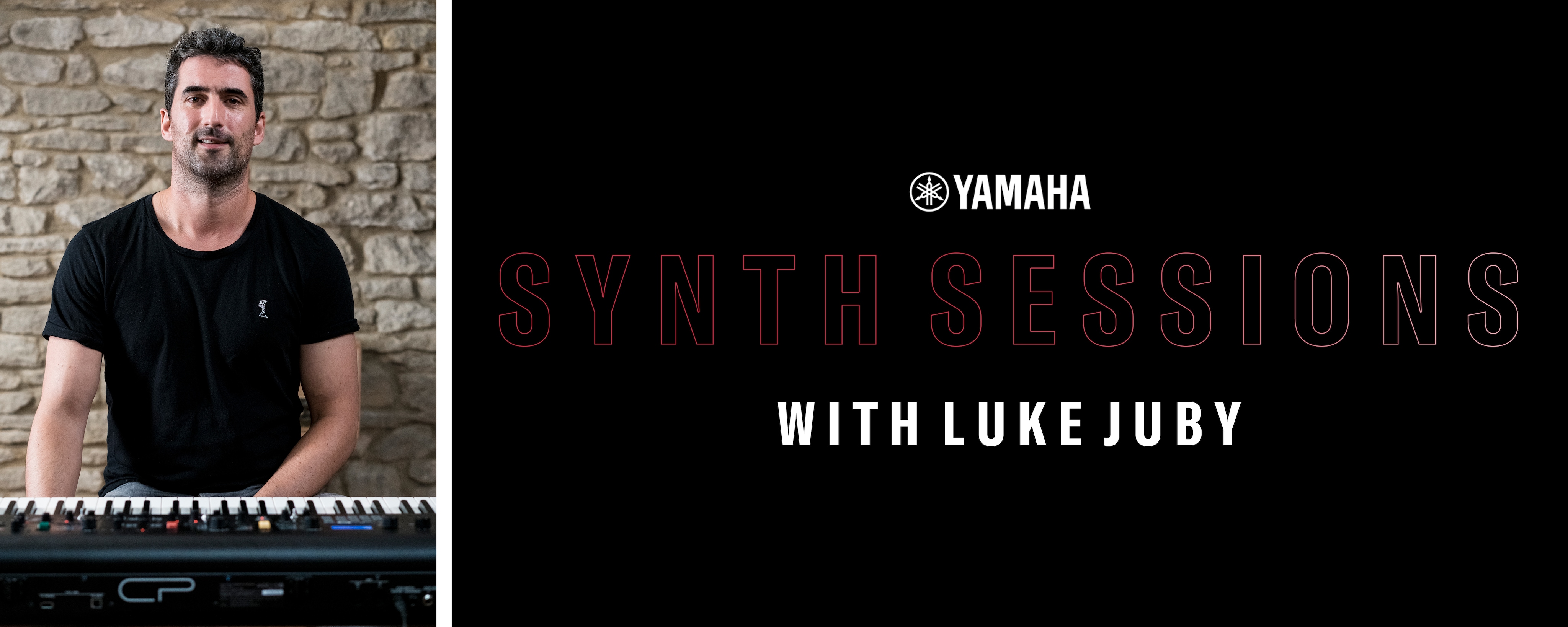 Support. Guide. Entertain.
Yamaha Synth Sessions, will feature Yamaha's award winning MODX and flagship Montage along with the critically acclaimed new CP Stage Piano. These sessions are designed to offer a detailed insight for anyone wanting to know or learn more about Yamaha's product range along with supporting existing Yamaha users get the most out of their instruments. Or simply meet one of the UK's leading session musicians and discuss the music industry, playing and to share advice.
Yamaha Artist Luke Juby has worked as a session player with many artists including Leona Lewis, Just Jack, Delta Goodrem, Olly Murs and Little Mix. Luke has been with Mike and The Mechanics for 8 years and recently finished a worldwide tour with The Script. When he's not on the road he's often writing songs for artists including Emeli Sandé, Leona Lewis, Naughty Boy, Professor Green, Katherine Jenkins, Jacob Banks and Izzy Bizu.
It was back in 1974 when Yamaha laid the foundation for its Synthesizers with its monophonic synthesizer SY-1, based on the GX-1 organ. The next classic followed in 1977: the CS-80 has been called the "king of synthesizers", its expressive sound and controls justify the legendary status of the CS-80. In 1983, Yamaha popularized the FM synthesis, combining it with control protocol MIDI to form the era-defining DX7 – without this synthesizer, a large part of 80s pop music would have sounded entirely different. Today, Yamaha builds the legends of tomorrow with its flagship synthesizer MONTAGE, its more compact sibling MODX and the CP series stage pianos which are perfect for discerning pianists and gigging keyboarders.
Dates
Luke Juby is hitting the road and will be stopping at the locations below. Contact details together with web link are also provided for further information. Get in touch to reserve your place!
Saturday 23rd November
Cardiff
PMT Cardiff
52-54 St Mary St, Cardiff CF10 1FE
Tel:
029 2022 1029
Web:
Website
Sunday 24th November
Bristol
PMT Bristol
5 Rupert St, Bristol BS1 2PY
Tel:
0117 934 9955
Web:
Website
Sunday 1st December
Manchester
PMT Manchester
Red Rose Retail Centre, Regent Rd, Manchester M5 3GR
Tel:
0161 877 6262
Web:
Website
Saturday 7th December
Nottingham
PMT Nottingham
2 Marco Island, Huntingdon St, Nottingham NG1 1AR
Tel:
0115 941 1792
Web:
Website
Saturday 8th December
Leeds
PMT Leeds
Citygate, 9 Kirkstall Rd, Leeds LS3 1LH
Tel:
0113 242 6601
Web:
Website
The Products
CP
The acclaimed CP88/73 are designed to withstand the rigors of the road, provide the action that is needed for maximum expression and be extremely intuitive to use. With its very organic one-to-one interface, CP gives you direct, immediate and total control of your sound during stage or studio performance. There's no programming, menu-diving or web searching with CP as the intuitive interface allows fast and easy splits, layers and sound-shaping directly from the front panel. Of course, sound is the most important part of any musical instrument. CP73 and CP88 stage pianos feature a wide range of grand piano, upright piano, electric piano and keyboard sounds for playing any music genre. All of this is packed in its compact and sturdy aluminum casing making it among the lightest and most compact instruments in their class.
Quote: "The CP is my favourite new instrument for some time. The pianos are incredibly playable while the EPs have that extra bite that so many fail to replicate. The CP is now my go to for any recording" – Luke Juby
Montage
Since its introduction, MONTAGE continues to excite with its powerful sound engine, versatile and flexible controls and an impressive playing feel. The MONTAGE adds a new level of expression with a Motion Control Synthesis Engine that unifies and controls two iconic Sound Engines: AWM2 (high-quality waveform and subtractive synthesis) and FM-X (modern, pure Frequency Modulation synthesis.) These two engines can be freely zoned or layered across eight parts in a single MONTAGE Performance. Interact with MONTAGE Performances using Motion Control: a highly programmable control matrix for creating deep, dynamic and incredibly expressive sound. With Motion Control, you can create new sounds not possible on previous hardware synthesizers.
Successful artists around the world rely on the legendary manufacturer's top synthesizer. Today, Yamaha also adds a new visual option: the three MONTAGE models are now also available with a sophisticated white finish. With this new exterior variation, MONTAGE not only fits into any musical environment, but can also match the users' tastes aesthetically. While the new white finish for Yamaha MONTAGE marks a purely visual alternative, the new OS updates for MONTAGE enhance the already extensive feature with and an all-new pattern sequencer. Patterns with up to 16 tracks can be edited and saved to 128 slots. Importing and exporting MIDI files is also possible. Completed pattern chains can be converted into songs and saved accordingly.
Quote: "The Montage is still the boss and the new OS pushes it further yet again. The levels of controllability of this synth are second to none. If you think you've discovered the Montage's limits I'd suggest you haven't looked hard enough". – Luke Juby
MODX
Empower your creativity, take control and stand out from the crowd with MODX: a compact, lightweight synthesizer designed for inspired music-making. The MODX features the same technology as Yamaha's flagship MONTAGE synthesizer for an amazing sound playback and complex sound design. The Super Knob allows simultaneous control of up to 128 parameters in a single Performance. This means you can control nearly anything from mix functions like volume, pan and effect sends to detailed synth parameters like filters, LFOs and Operators. That' s 128 parameters… SIMULTANEOUSLY!
And if this was not enough feature packed enough, then like the new Montage software the new OS V2.0 also adds the all-new 16 track Pattern Sequencer feature to significantly extend the possibilities to arrange entire songs without further equipment.
Quote: "The MODX is simply a beast. No other synth on the market comes close to the power per buck that these three offer" – Luke Juby
Stay Up To Date
Yamaha Music Members Europe is the place to register your products, sign up for newsletters and tell us what you are interested in.


Luke Juby Synth Sessions 2019