Amazing Sound Starts Now— Buy the Yamaha Soundbar and Get a Free Pair of Bluetooth Earphones
Amazing Sound Starts Now— Buy the Yamaha Soundbar and Get a Free Pair of Bluetooth Earphones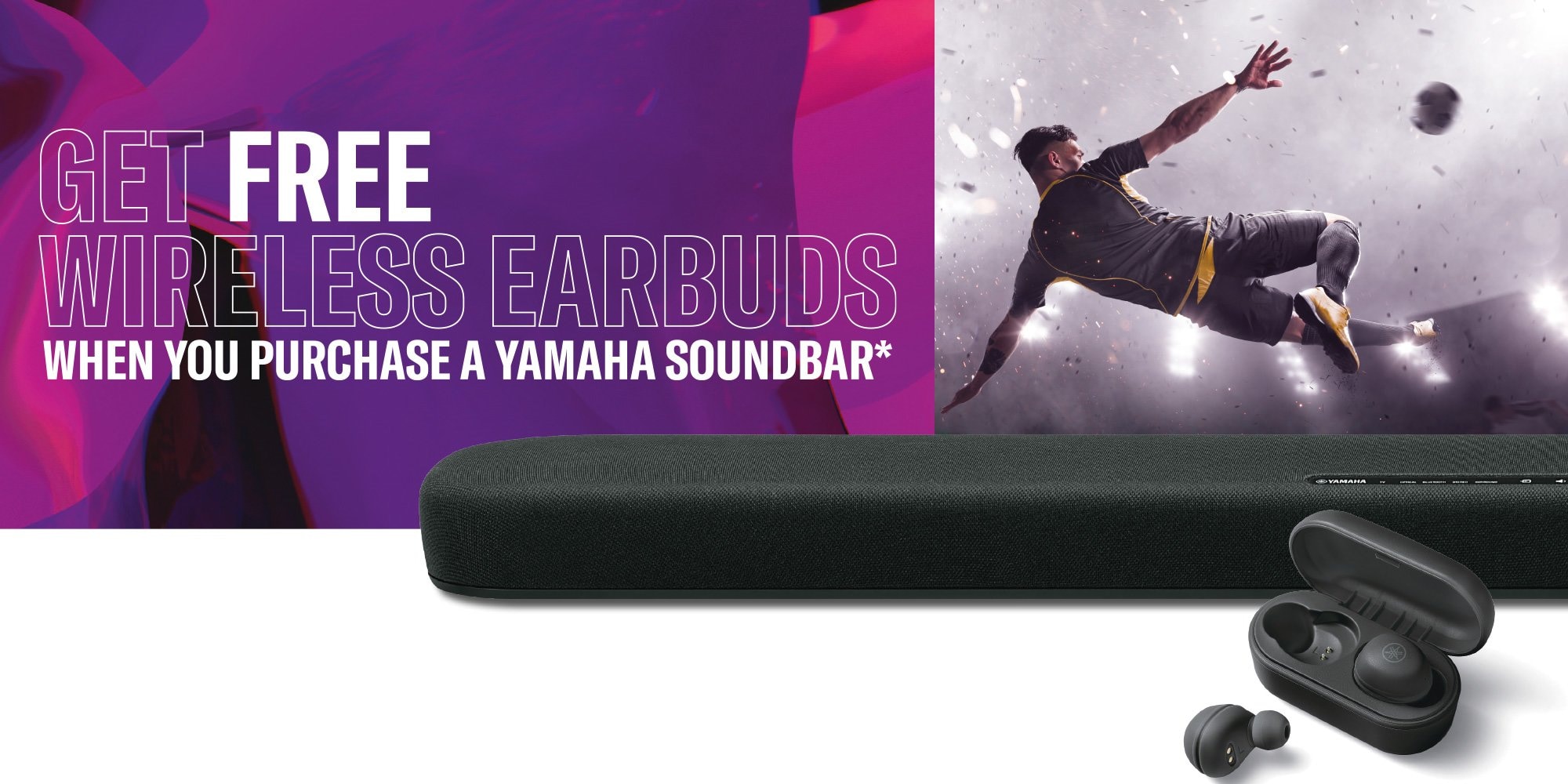 Rellingen, May 27, 2021 – Yamaha is launching a new promotion to make this June the perfect time for you to achieve the best sound for at home and on the go. If you buy a qualifying Soundbar between June 1 and June 30, 2021, you will receive a pair of Bluetooth earphones absolutely free. Enjoy amazing sound when out and about having fun and exercising then come home to your Soundbar, which will bring soccer games or your favorite crime dramas to life with its explosive sound. All you have to do is register your purchased Soundbar online, and your earphones will be sent straight to your home address.
The Starting Whistle: Yamaha Soundbars Bring the Soccer Experience into Your Home
This sales promotion applies to Yamaha Soundbars SR-C20A / ATS-C200 and SR-B20A / ATS-B200. They will fill every corner of your living room with thrilling sound and all from just one, unobtrusive loudspeaker. Even the ultra-compact housing of the SR-C20A / ATS-C200 Soundbars packs a punch: Two full range loudspeakers, one bass loudspeaker and two passive radiators work with technology such as Clear Voice, Dolby Digital and Virtual Surround to provide impressive sound. If you want to ramp it up a level, the SR-B20A / ATS-B200 is what you need. A true two-way system with two integrated subwoofers delivers powerful sound, while DTS Digital Surround and DTS Virtual:X provide even more intensity. Bring exciting gaming worlds to life in your own living room and turn couches into stands during soccer spectacles for a true stadium experience.
Free TW-E3A Bluetooth Earphones
When you buy one of these Soundbars you get a pair of TW-E3A Bluetooth earphones absolutely free — an amazing deal with a recommended retail price of 139 euro! These True Wireless in-ear earphones will mean you always have Yamaha 'True Sound' wherever you go. The IPX5 protection guarantees that the earphones work flawlessly even when exercising and in bad weather. They last up to six hours with just one charge and can be charged an extra three times using the included case. Bluetooth 5.0 with AAC and SBC, and the aptX Codec are used for transmission.
Buy a Soundbar, Register it Online and Get a Free Pair of Earphones
The Yamaha sales promotion runs from June 1 through June 30, 2021. Buy a Yamaha Soundbar SR-C20A, SR-B20A, ATS-C200 or ATS-B200 during this period to qualify for the promotion. All you need to do is register the purchased product online at http://europe.yamaha.com/cashback before July 15, 2021. Once the request has been checked, a free pair of TW-E3A earphones will be sent to the registered address within 28 working days. And then all that's left to do is enjoy your amazing sound experience at home and on the go!
Amazing Sound Starts Now— Buy the Yamaha Soundbar and Get a Free Pair of Bluetooth Earphones