Biography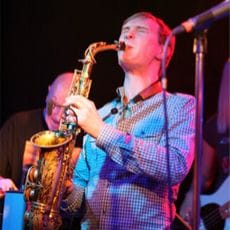 Andrew Linham is an award-winning alto saxophonist currently based in London.
In 2012 he released his first album as a leader entitled 'Abandoned Silence' which received critical acclaim. In 2011 he was a recipient of the Yamaha Jazz Scholarship Award which in association with Yamaha, Jazzwise and PPL alongside the All Party Parliamentary Jazz Appreciation Group allowed him fantastic performance opportunities, an original composition included on a cover mounted CD on Jazzwise and an album launch at the 606 Club.
"He ratcheted up the intensity until he was channelling Kenny Garrett through a firestorm of his own fertile imagination that left club goers open-mouthed..... There are more than enough reasons to catch [him] again. Very soon." Jon Newey, Jazzwise, February 2011.
Since then Andrew has performed alongside some of the greatest UK based up and coming musicians in London and continues to enjoy an active performance career, which has seen him whilst working as an endorsee with SAXRAX Saxophone Stands and Yamaha Saxophones perform internationally at the NAMM 2012 in LA, USA and Musikmesse 2013 and 2014 in Frankfurt, Germany.
Alongside this he has won several other awards for his performances including The George Murphy Prize for Saxophone at Leeds College of Music in 2009. Whilst playing baritone saxophone and clarinet in the Leeds College of Music Big Band, he won 1st prize in the Great Northern Big Band Competition 2010, and also won the 'Best Saxophone Section' award.