Biography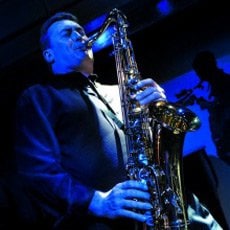 At 18, Dave joined the QE2 for 6 months for one world cruise and three Caribbean cruises. On his return, Dave began his freelance career which has involved TV, film and recording sessions and has resulted in a number of credits, most recently a presentation in recognition of his participation in the Grammy Award winning recording of Amy Winehouse's "Rehab" from the National Academy of Recording Arts & Sciences.
As a performer, Dave has played with some of the World's finest artists including Quincy Jones, Robbie Williams and Michael Bublé to name but a few. Alongside of this, Dave has also featured extensively in West End shows including Grease, Saturday Night Fever and Chitty Chitty Bang Bang and is saxophone augment for a number of orchestras such as the London Symphony Orchestra.
Dave was left a library of music from Tubby Hayes and currently runs the Tubby Hayes Legacy Orchestra with some of the finest jazz musicians in London.
A Yamaha artist since 1991, Dave has presented a number of clinics including Kneller Hall, Leeds College of Music and at the Wigan Jazz Course.