Biography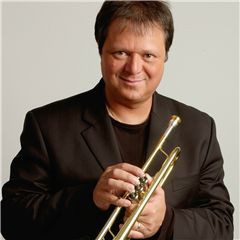 His musical debut was made with other players at the heart of the Limoges and Limousin Regional Symphonic Orchestra (l'Orchestre Symphonique Régional de Limoges et du Limousin) under the direction of Guy CONDETTE.
After having perfected his skill, for a few years, with the help of various eminent personalities of the trumpett world, such as: Marcel LAGORCE, Bernard JEANOUTOT, Bo NILSSON, Roger DELMOTTE, Carmine CARUSO and Antoine CURE, he was admitted in 1983 to the Higher National Conservatory of Music at Paris (Conservatoire National Supérieur de Musique de Paris) under the leadership of Pierre THIBAUD.
He will work and perfect his skill with his Master for 3 years. He left the Higher National Conservatory of Paris in 1986 having gained a unanimous first prize.
Thus we find Franck PULCINI at the heart of the greatest orchestras both nationally and internationally: The Radio France Philharmonic Orchestra (Orchestres Philharmoniques de Radio France), National de France, Inter Comtemporain, National de l'Opéra de Paris, National de Bordeaux Aquitaine, du Capitole de Toulouse, Symphonique de Montpellier, The Radio Orchestras of Frankfurt and Munich (Orchestre des Radios de Franc fort et de Munich) and this was under the direction of the great masters: Giulini, Maazel, Boulez, Krivine, Gielen, Cambreling, Janowsky, Osawa, Prêtre, ... From 1995, he was the lead trumpet solo of the South West Rundfunk (Germany) Radio Orchestra.
As a soloist, Franck PULCINI was a prize winner in the great international competitions amongst which are:
The international Prague Spring Competition, the international Toulon competition, the Trumpet Guild international competition (Tallahassee, Florida) and above all, he won in 1994, first prize at the Tokyo international competition as well as the Emperor's Special Award.
In the field of Chamber Music, Franck PULCINI was co-founder of the brass ensemble EPSILON, with whom he won the Narbonne international competition and the first Chamber Music international competition of Osaka (Japan). He played with this ensemble in numerous concerts as well as different stages across the whole of Europe including the Festival « Brass-Week, Brass in Festival » in Limousin.
Franck PULCINI regularly makes various worldwide tours, where he plays a recital, as well as being accompanied by the greatest orchestras; he has played during the period from 1997 to 2000 at Venezuela in the Travelling Conservatory founded jointly by the AFAA (Ministry for Foreign Affairs) and the Carlos and Allegria Beracasa Foundation.