Biography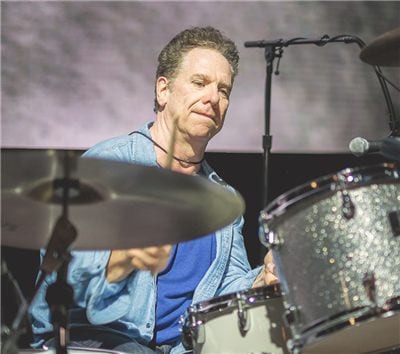 When he was young, Mickey Curry dreamed of being a top session player, like his heroes Jeff Porcaro, Steve Gadd and Jim Gordon. He's achieved that aim, playing with many top artists over the past twenty years. But during that same time he's also maintained a high-profile and fulfilling gig with Canadian rocker Bryan Adams.
Born in 1956 in New Haven, Connecticut, Mickey took up drums when he was 11 and played with local bands. His early inspirations ranged from Ringo Starr and John Bonham through to Chicago's Danny Seraphine and – under the influence of his older brothers – the classic R'n'B of Marvin Gaye, Otis Redding and James Brown.
Mickey got serious about drums from the age of 13 when he and two of his brothers formed a school band called The Rack. Later, Mickey went to a state school for music, but the academic route was not for him and he left early to play in bands. When he was 17 he joined the Scratch Band in Connecticut where he first gained recording experience. Next Micky started to make the two hour train journey into Manhattan and eventually joined a band called Tom Dicky and the Desires. They were managed by music mogul Tommy Mottola who also managed Hall and Oates - big news in the early 1980s. Impressed by Micky, Mottola asked him to record Hall and Oates' new album 'Private Eyes'. Around the same time Micky met top producer Bob Clearmountain who'd just found a new singer called Bryan Adams.
Within months Mickey had recorded Adams' second album 'You Want It You Got It'. Next thing Micky's out on tour with Hall and Oates.
All this was in 1981 when Mickey was 25. This was his big-break year and he's never really looked back. The calls started to come in thick and fast – Tom Waits, Cher, Tina Turner, Los Lobos.
Micky worked with Hall and Oates through till 1986, since when he's been Bryan Adams' regular drummer. He says "I get to sound more like me on Bryan's records than on anyone else's". He's also had considerable success recording and touring with The Cult. He played on their 1989 album 'Sonic Temple' which sold three million. Other notable sessions have been with Alice Cooper, Stevie Winwood, David Bowie, Elvis Costello, Carly Simon, T-Bone Burnett and Richard Thompson.