Biography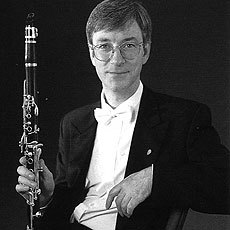 Nicholas Cox's recording of the Mozart Concerto and Quintet (ClassCD 1502) was released on the RLPOLive label in 2003. It has since been bradcast regularly on Classic FM. His latest recording of Richard Stauss's Duet Concertino on a Strauss double album with the RLPO under Gerard Schwarz was released in June 2005 on the Avie record label.
Other recordings include the Sonatas by Brahms and Reger (United:Cala 88012) and works for Clarinet by Bliss, Rawsthorne and Routh (Redcliffe 010). Future recording plans include a CD of British Music including several commissions for Redcliffe Records.
After reading music at Cambridge he studied clarinet with Hans Deinzer at the Musikhochschule in Hanover. He won First Prize at the 1984 Royal Over-Seas League Music Competition in London and 2nd prize at the 1987 Jeunesses Musicales International Competition. He completed his studies at the Aspen Music School in Colorado.
Appointed Principal Clarinet of the RLPO in 1992, he has played guest principal with most British orchestras and concertos with the City of London Sinfonia, NDR Radio and Prague Symphony Orchestra in addition to several with the RLPO.
As a soloist he has appeared at the Wigmore and QEH, and Edinburgh, Cheltenham Huddersfield and Brighton Festivals. As a chamber musician he has worked with the Brodsky, Skampa, Medici, Chillingirian and Endellion Quartets.
In 1999 he gave the premie`re of the Clarinet Concerto by Adam Gorb. His other commissions include works by Hugh Wood, Sir Richard Rodney Bennett, Jonathan Lloyd, Francis Routh, David Horne and Andrei Eshpai.
He is Senior Tutor Clarinet at the RNCM in Manchester. In May 2006 his pupil Mark Simpson from the Junior RNCM became the first musician to win both BBC Young Musician and BBC Young Composer titles.
from 1997 - 2002 Nicholas co-founded and ran Ensemble 10/10, the Liverpool new music group. Since 1997 he has also helped to re-establish the highly successful series of professional chamber concerts in Liverpool as Artistic Adviser of the Rodewald Concert Society.
Nicholas and the Chillingirian Quartet gave the premiere of the new Clarinet Quintet by Hugh Wood in November 2007 commissioned by the Rodewald Society.
In addition to his playing and teaching, Nicholas is an active researcher recently editing 3 Sonatas by Francois Devienne for Edition HH. The first of these has been adopted as a set work in the Associated Board of the Royal School of Music Grade VIII syllabus.
Discography:
Brahms Sonata Op.120 No.1 & Reger Sonata Op.107 with Vanessa Latarche piano (UNITED 88012 issued April 1994). Tracks selected on Classic FM CD of "Great Wind Music"
Bliss, Rawsthorne & Routh Clarinet Quintets with members of the Redcliffe Ensemble (REDCLIFFE 010 issued January 1996)
Mozart (Concerto, Quintet, Adagio K 580a) Conductor Roy Goodman: RLPO Live issued May 2003 (CLASSCD 1502 - CD of the week on Classic FM)
Richard Strauss, Duet Concertino with Alan Pendlebury bassoon RLPO Conductor Gerard Schwarz (issued May 2006 on AVIE AV2071)
Humphrey Proctor Gregg Sonata for Clarinet and Piano with Ian Buckle piano (first recording issued May 2006 on DUTTON CDLX 7165)