Biography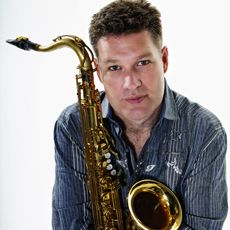 Paul "Shilts" Weimar hails from London and has been playing saxophone since his early teens. His 30 year career has spanned all forms of jazz, funk, soul and pop music and he has toured all over the world and recorded with a host of international artists.
Most recently you would have seen Shilts as Bandleader and front-man of British urban jazz funk export, "Down To The Bone" which enjoyed massive success in the United States. DTTB released 7 albums of which Paul was heavily featured, both as a player and as a writer.
As a teenager Paul cut his teeth when he was asked to join the National Youth Jazz Orchestra of Great Britain at the age of 15. It was with NYJO that Paul originally got a taste for the business, backing such great jazz stars as Nancy Wilson, Buddy Greco, Shorty Rogers, Rosemary Clooney, George Shearing and Mel Torme, to name but a few.
After turning professional at the age of 16 Paul began working in nightclubs, once again backing many great American stars such as The Temptations, Four Tops, Drifters and Rose Royce. Keen to see more of the world, Paul then embarked on a travel spree that saw him work in Hong Kong, the Middle East, Europe, and the Caribbean.
On returning home, Paul began to firmly establish himself on the London session scene, recording with artists such as David Bowie, Jimmy Paige, Bill Wyman, Lulu, Conner Reeves and Dina Carroll. Working in such great company as this led Paul in 1986 to join UK pop band "Breathe", who went on to have top 10 hits in the US with "Hands to Heaven ", "All That Jazz" and "How Can I
Fall". Despite a few years of touring and a taste of pop success, Paul never lost sight of his love for jazz and co-formed "System X" with five other like minded London session musicians and went on to record the highly acclaimed album "Beat The System", whilst playing regularly on the London jazz club circuit.
By now Paul was highly regarded for his soulful, funky saxophone style, which ensured an invitation to join British Acid Jazz group, "The Brand New Heavies" in 1994. This association lasted for 6 years during which time he toured the world several times and was a featured soloist on their album "Shelter", which also gave him a chance to work with legendary vocalist and song writer Siedah Garrett. Paul also found time to tour America with UK chart toppers Jamiroquai in 1995.
It was with the Heavies, Paul met keyboard player Neil Cowley, which in turn led to an introduction to Chris J Morgans and Stuart Wade at Internal Bass Records, the production company behind DTTB. After featuring heavily on the "Urban Groove" album, Chris and Stuart asked Paul to form and front the live DTTB band which would tour the US. Numerous tours and seven albums later,
Shilts became the face of the DTTB live band and a target of great interest as a solo artist.
In 2000 an approach from Higher Octave records in the US led to the creation of his debut "Shilts" album, "See What Happens" and featured a crop of London's finest musicians, including many of the talents heard in the DTTB live band. This his debut album not only featured the hit single, "You Place Or Mine" but was also recognised in 2001 as one of the top releases in the US and received an industry nomination in the National Smooth Jazz Awards for the category of "Best New Artist".
In 2004 Paul moved from the UK to the Los Angeles area with his wife and two young children. Since then he has been seen not only on the session scene but also special guest to many of the top Smooth Jazz artists, such as, Rick Braun, Jeff Lorber, Paul Brown and Peter White.
In 2005 whilst working in the Jeff Lorber band, Paul received a telephone call from Rick Braun, asking if he would like to present some of his music to ARTizen Music. Paul did so and along with his partners, Richard Elliot, Steve Chapman and Al Evers, Rick signed Shilts to their new record company. The culmination of this was the release of "HeadBoppin" in 2006. The CD received rave reviews and featured some of Paul's musical idols.
In 2008 after a bitter sweet decision, Paul finally said farewell to DTTB and turned his full focus on his solo career. Armed with a new album "Jigsaw Life" and new label NuGroove Records, two hit singles, "Back On The Hudson" & "Broken Silence" under his belt, things couldn't look brighter for the future. Paul was also now being noticed for his writing and production skills and it was at this time he became a Yamaha and Steinberg artist. Paul couldn't be happier as he had been using Steinberg music creation software for over 20 years.
So in 2010, Paul again made the decision to go it alone and formed his own record label, "Blanket Records". His first independent release was "Going Underground". A full-on funk fortified cd with 8 original tunes and a cover of the 1975 Brecker Brothers hit "Sneakin Up Behind You". Featuring an array of well known jazz stars and super talented musicians. This album went on to produce his first #1 single on the jazz charts where it remained for 5 weeks. The tune "Seeing Things Clearly", stayed on the charts for 9 months ...
Now in 2012, Paul has released his 5th and highly anticipated album, "All Grown Up". Within days of it's release, the critics and fans were unanimous that this was his best work to date. 10 original tracks, written, produced, recorded & mixed in his own studio for his own label. The cd features a song co-written by Paul & Siedah Garrett. "Got Love" was originally meant for the "HeadBoppin" cd but was recorded as an instrumental version. On "All Grown Up", he has re-recorded and remixed a newer version and features the vocal of Siedah. Other artists were now looking to Paul to help with writing and producing. "It's what I've been waiting to do for a long time". "I love working at home in the studio and if I can help someone achieve the sound they're looking for then I get great satisfaction from that".
As one of the favorites on the jazz tour circuit, Paul's ethos is a desire to produce good music without ever losing sight of the fact that it should be good fun at the same time. Now let's just wait and ........"see what happens"!