Biography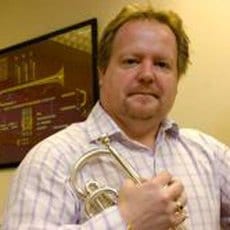 He has released five solo recordings, all recieving high critical acclaim. The latest being a collection of Jean Baptist Arban solo's on an original 1870's Arban Courtois Cornet. More Solo recordings are being planned in the near future.
Russell's other "passion" is conducting. In the last few years, he has become one of the most successful brass band conductors on the scene, being awarded the coveted title of "4barsrest.com conductor of the year" in 2002.
Born near Glasgow in Scotland in 1968, an early interest in music saw him pick up his fathers trumpet by the age of 9. Within a few years he had won many national solo prizes including the under 17 solo championship of Great Britain by the time he was 12.
In 1986 Russell moved to Yorkshire to study music and soon after joined the world famous Black Dyke Mills Band where he stayed for two years. He then moved to the Leyland band sitting next to his teacher Phillip McCann on assistant principal cornet.
Russell left University with a distinction in performance and soon was on the look out for his first principal cornet chair. The Britannia Building Society band gave Russell his first break in 1990 and in 1991 Russell moved back to the Leyland band on principal cornet, leading them through a successful period, which resulted in the band obtaining the World ranking number one.
Quickly establishing himself as a soloist of some distinction, Russell's diary began filling up with solo concerts all over the World. In 1999 Russell and his wife Mareika went on a World tour for six months performing over 100 engagments visiting Australia, New Zealand, North America, Canada, and England finishing just before Christmas of that year.
Russell's conducting career started when he was appointed resident conductor of the Stavanger Band in Norway in 1998. Russell moved back to England in 2001 as Principal Conductor of the Ransome Band. Along with many successful tours and concerts with the band, the highlight was obtaining a second place at the National Championships in the Royal Albert Hall in 2000. In 2002,the Fodens Richardson Band approached Russell to conduct them and within the first year had obtained three 1st prizes and two 2nd placings in five contests, taking them to the World ranking number one.
2005 was one of Russell's most productive years, winning six out of eight competitions culminating with the National Brass Band Championships on Great Britain with his new Band "Leyland".
2006 saw a slight change of direction in his career when he was invited to guest conduct the Wrexham Symphony Orchestra. Russell conducted his first concert with them in December 2006 and was imediately invited back for another concert in 2007. Other Orchestras are also booking Russell, he was guest conductor with the Queensland 'Pops' Orchestra during their New Years Concert in the Queensland Performing Arts Centre, and has been booked by the Cambrian Philharmonic Orchestra for two concerts in the 2008 season.
Russell not only works with adult ensembles but also enjoys conducting youth bands. He has been course director for the Swiss National Youth Band, and the Queensland Youth Band in Australia. He has been cornet tutor with the National Youth Band of Norway, and the National Youth Band of Scotland, he also maintains a close relationship with the Greater Gwent Youth Band in Wales and regularily takes them to competitions in the UK. 2006 was a great year for the Gwent Youth Band being crowned British Open and National Youth Champions, they finished the year by performing to a full house at the Last night of the School Proms in the Royal Albert Hall in London.
Russell is a Yamaha artist and plays exclusively the Xeno cornet.