Biography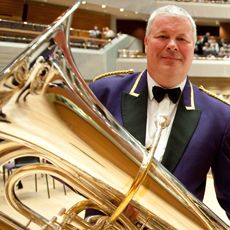 During Simon's playing career he has been fortunate to win 19 major titles:-
• 9 European Championships
• 4 British Open Championships
• 2 National Championships
• 4 All England Masters wins.
Simon is a former member of the National Youth Band of Great Britain and whilst with them was awarded the Arthur Atkinson Trophy for the most outstanding Tuba player.
Over the years Simon has been lucky to have many musical highlights including tours to Japan, USA, Holland, Belgium, Germany, Austria, Switzerland and Australia.
Other musical highlights were the themed Cry of the Celts and Windows of the World concerts given by YBS.
Simon has also played on over 30 CD recordings, many of which have received critical acclaim.
In 2004 he was voted into the All Time "top 10" BBb Tuba players by the internet based 4Barsrest web site.
Simon is now much in demand as a tutor of lower brass in the UK and Europe and has been the development artist for the new Yamaha Neo BBb Tuba.