Biography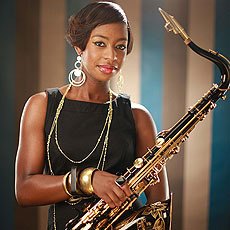 By seven, she was giving the violin a go, then the drums. She loved the recorder, the oboe, and by 13 had settled on the saxophone. She refused to take lessons, however, simply because the saxophone to YolanDa was somehow instinctual. She simply knew how to play it, naturally, as if she were born to do so. Pretty soon, she became something of a prodigy.
"I'm not sure why the saxophone of all instruments appealed to me most," she admits, "but I just felt at home with it somehow. I loved the music it made."
Normally when someone finds themselves through a musical instrument, it is at the cost of their studies. They perform so poorly elsewhere in school that, say, the guitar is the only way they can find of expressing themselves. Not YolanDa. YolanDa was as good in the classroom as she was in the music room. She excelled in all subjects, even the unpopular ones like maths and science. She became head girl, and sailed through her GCSEs, her A-levels, and on into university, where she completed a Masters in Management Science, as well as a Masters in Social Research Methods and has even begun to study for her PhD at the University of Kent.
During the latter course, she even spent a year studying it in Spain, where she also picked up the language. A career in high-level business clearly beckoned, but as she says herself, "I simply couldn't imagine myself spending life in an office. Music was still my overriding love. As long as it could pay the rent, I was going to pursue it for all I was worth."
In her early 20s, she started to play live, her natural gift bringing her to the attention of all sorts of artists who promptly invited her out on the road with them. Over the past few years she has played with Alexander O'Neal, Mica Paris, Omar, Soweto Kinch and Sway. She learned plenty with each, but it also whet the appetite of someone who didn't just play an instrument but also wrote her own songs. By 2006, she was ready to launch herself as a solo artist.
With no record deal on the table and having never tried to set out by herself before, you'd expect the prospect would have confounded her, but YolanDa simply employed her smarts.
By the time she came to headline her debut concert, at London's Mermaid Theatre in July 2007, it was completely sold out. In centre stage, she proved an absolute natural, someone who could command the limelight all by herself, and who could play the saxophone like someone possessed.
From there, she ventured out into the world. She has played at jazz venues in Miami, and at the Frankfurt Auto Show. She has appeared at the Rotterdam Carnival and at Spain's IslaVuelta's Festival. She has played before the High Commission and at the Ocho Rios Festival in Jamaica. For 18 months, she hosted her own talk show - entitled, confusingly, Esther (after a character in the Bible) on Passion TV and last year she toured the UK with The Temptations. She ended 2008 by picking up a MOBO Award for Best Jazz Act.
"I was honoured, of course I was," she says of her cherished statuette, "but now I'm very much focused on establishing myself for what I really am, someone who refuses to be hemmed in by any one musical genre. I don't listen to just one kind of music, so I don't see the need to play just one kind of music. It's all fair game to me, as far as I'm concerned."
She started 2009 on a high, accompanying Errol Brown on his swansong tour. "A lovely man," she says. A second MOBO Award for Best Jazz. And now, as she is considering further TV opportunities, putting the finishing touches to her debut album and meeting with any record company interested in signing up a genuinely cross-cultural artist, she is also currently teaching Business at Kent University. Why? Simply because she can, and because she has the most extraordinary drive, not just to achieve but also to share her vast knowledge. You don't come across many people as extraordinary, and motivational, as YolanDa Brown, which is why she is one of a kind. She very probably runs on rocket fuel.