Yamaha's Ground Breaking YEV Series Presented with Prestigious Gold Award at the iF Design Awards Ceremony in Munich.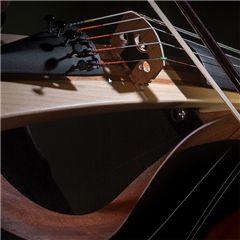 Rellingen, DE (11th March, 2017) – On the 10th March 2017, Yamaha was presented with a prestigious iF Gold Design Award for its ground breaking YEV series violins at the iF design award night which took place at BMW Welt in Munich.
Each year the iF Design Awards celebrate outstanding design, serving as a beacon for design-interested audiences across the globe. Recognised as one of the most prestigious design competitions in the world, it is hugely competitive and in 2017 5,575 entries were received from 59 countries around the world. Only 60 of these entries are awarded a Gold Award and chosen by a jury of 58 members that closely examines the merits of each design before selecting the winners.
YEV Series violins were launched in 2016 and were a significant step forward in the design of electric violins. Unique in the market place, the Möbius strip design has given the new instruments an iconic shape and is designed to enhance the visual aspects of on-stage performance.
Speaking of the award, Yamaha Music Europe's Strings Product Specialist noted: "It's a huge honour for Yamaha to receive an iF Gold Design Award for the YEV Series. To be selected from 5,575 entries shows just how good a job our design team have done. They have created a beautiful instrument, not just audibly, but visually too."
Since its founding in 1887, Yamaha — the world's largest manufacturer of musical instruments — has maintained a devotion to inspiring creativity through the power of music. The centrepiece of the company's mission is the preservation of musical tradition, while creating innovative new products, technologies and education programmes.