CL/QL Firmware Version 4.5 is On the Way! Includes Support for Yamaha's new I/O Racks and Audinate's Dante Domain Manager
CL/QL Firmware Version 4.5 is On the Way! Includes Support for Yamaha's new I/O Racks and Audinate's Dante Domain Manager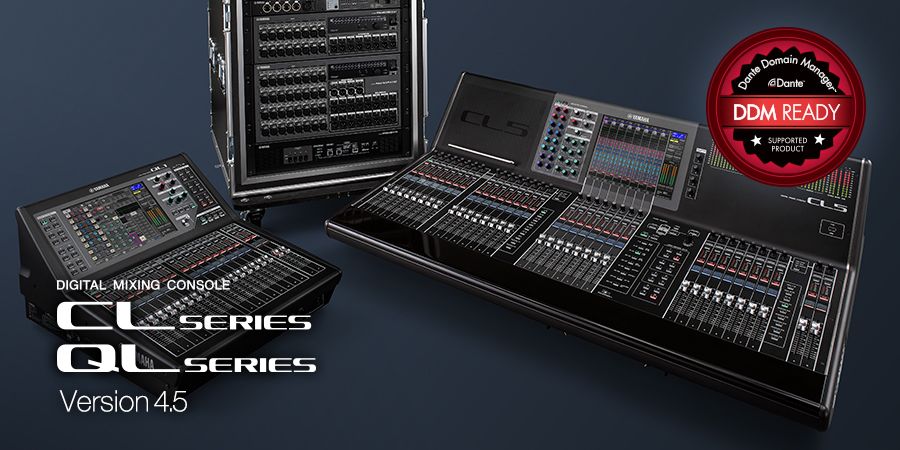 February 6, 2018. Shizuoka, Japan. - Firmware version 4.5 for the industry-standard CL and QL series digital mixing consoles is to be released soon, continuing Yamaha's policy of keeping products ahead of the curve with regular updates.
CL/QL V4.5 will provide support for Yamaha's new Rio3224-D2 and Rio1608-D2 I/O Racks, scheduled for simultaneous release, and Audinate's Dante Domain Manager.
The new Rio3224-D2 and Rio1608-D2 I/O Racks are successors to the Rio3224-D and Rio1608-D, offering significant advances in sound, reliability, and visual status confirmation. Analog circuitry developed for the first-generation Rio3224-D and Rio1608-D has been revised to deliver sound that represents another evolution in Yamaha's "natural sound" concept, and overall performance that is worthy of "RIVAGE PM series" status. Both models include dual power supply units, so that a problem with one power source will not disrupt operation as long as the second power source is active. Another refinement is the inclusion of character/icon displays for quick, easy confirmation of Dante settings as well as metering, gain, high-pass filters, phantom power, and more. It is also possible to edit gain, high-pass filters, and phantom power settings directly from the I/O Rack interface, and even lock them if required.
Dante Domain Manager software from Audinate provides efficient Dante network management with user authentication and role-based security, allowing seamless Dante system expansion on just about any network infrastructure. The Dante Domain Manager offers significantly enhanced security and scalability for systems built on Dante infrastructure with a CL or QL series mixer at the core.
Starting with the CL/QL consoles and Rio3224-D2/Rio1608-D2 I/O Racks, Yamaha will be rolling out updates for more Dante-ready products in the near future in order to provide system-wide support for the Dante Domain Manager. Forthcoming updates supporting the Dante Domain Manager will be announced on the Yamaha pro audio website.
Audinate CEO Lee Ellison notes "Yamaha has always been on the forefront on innovation and responsiveness, and their announcement to upgrade their products to support Dante Domain Manager is no exception. We are pleased to see that Yamaha's customers can now benefit from the enhancements in flexibility, scalability and security for their AV systems that Dante Domain Manager provides."
Yoshi Tsugawa, General Manager at Yamaha pro audio division, comments: "Our ten-year alliance with Audinate has resulted in a number of Dante solutions that go way beyond simple audio-over-IP technology. The Audinate Dante Domain Manager will deliver important enhancements in terms of Dante system security, expandability, and manageability. We will roll out updates that support the Dante Domain Manager in Dante-ready Yamaha products, to give our customers the highest possible levels of convenience and control in Dante-based audio systems."
*Product and company names and logos that appear in this news release are trademarks of their respective owners.
CL/QL Firmware Version 4.5 is On the Way! Includes Support for Yamaha's new I/O Racks and Audinate's Dante Domain Manager