RUN FOR COVER: Yamaha DXRmkII / DXS Autumn Deal
RUN FOR COVER: Yamaha DXRmkII / DXS Autumn Deal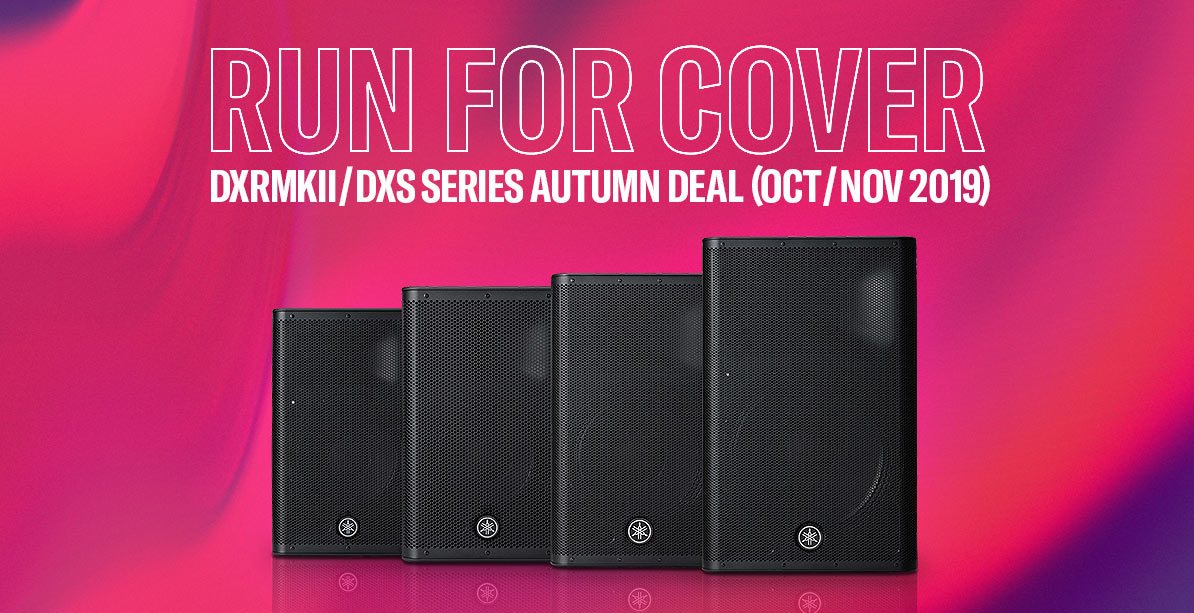 For a limited time period, Yamaha is offering free functional covers when buying at least one pair of DXRmkII Active Loudspeakers, with or without a DXS Subwoofer. The functional covers protect your speakers from unfavorable weather conditions during outdoor performances, dusty and dirty warehouse storage, or the rigors of equipment transport on the road.
Road-ready and powerful: Yamaha DXRmkII

The DXRmkII Series offers an upgrade in performance and a reduction in weight compared to their predecessors. All the new models' HF units feature an upgraded 1.75" neodymium VC compression driver that achieves a higher SPL with greater high frequency sound reproduction with all the basic utility and versatility of the current DXR series.
Modern DSP processing technologies like the proprietary FIR-X-TuningTM or the intelligent D-CONTOUR multiband compression have the DXRmkII Series Loudspeakers geared towards ultimate functionality. Durable, non-resonant ABS enclosures and a portable, lightweight construction allows for seamless adaptability in various environments and applications from front-of-house sound and floor monitoring, to simple amplification and installed environments.
Yamaha Autumn Deal RUN FOR COVER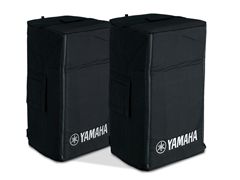 Within the promotion period, customers buying at least one pair of DXRmkII Active Speakers receive the fitted functional covers for free.
The promotion period starts at 01. October and runs until 30. November 2019.
If an extra in low end is desired, additionally purchased DXS Subwoofers also come with a free functional cover.
| | | | | | |
| --- | --- | --- | --- | --- | --- |
| Dealer Name  | Street | ZIP | City | Country | URL |
| Absolute Music | Units 3-5, Knighton Heath Ind Est, 855, Ringwood Rd | BH11 8NE | Bournemouth | England | https://www.absolutemusic.co.uk/ |
| Andertons Music | 58-59 WOODBRIDGE ROAD  | GU1  4RF | Guildford | England | https://www.andertons.co.uk/ |
| Audio Visual Commodity  | 1A ALTBARN ROAD | CO2 8LG | Colchester | England | https://www.getinthemix.com/ |
| Bop Trading | 2 Church Walk | LS2 7EG | Leeds | England | https://www.bopdj.com/ |
| Bop Trading | Brunel Rooms, Unity Street | BS2 0JP | Bristol | England | https://www.bopdj.com/ |
| Bop Trading | 72 Yorkshire Street | M3 5EG | Manchester | England | https://www.bopdj.com/ |
| Yamaha Music London | 152-160, Wardour Street | W1F 8YA | London | England | https://www.yamahamusiclondon.com/ |
| DJ Kit  | Shannon House, B1, Hambridge Rd | RG14 5SS | Newbury | England | https://www.djkit.com/ |
| DJ Supplies | Unit 3, Tenat Works, Worcester Road | DY10 1JR | Kidderminster | England | https://www.djsupplies.co.uk/ |
| Express Music  | 196-204 Binley Road | CV3 1HG | Coventry | England | https://www.expressmusic.co.uk/ |
| Fairdeal Music | 79-83 Holloway Head | B1 1QP | Birmingham | England | https://www.fairdealmusic.co.uk/ |
| Guitar Guitar | 6 Church Street | KT17 4NY | Epsom | England | https://www.guitarguitar.co.uk/ |
| The Guitar Amp & Keyboard Centre | 76-82 North Rd | BN1 1YD | Brighton | England | https://www.gak.co.uk/ |
| A&C Hamilton | 946-950 Blackpool Rd, Lea | PR2 1XN | Preston | England | https://www.achamilton.co.uk/ |
| Hogan Music  | Wincombe House, 123-125, Bartholomew Street | RG14 5BN | Newbury | England | https://www.hoganmusic.co.uk/ |
| H W Audio Ltd | 180 - 198 St Georges Rd | BL1 2PH | Bolton | England | https://www.hwaudio.co.uk/ |
| Music Matter | B8 Ribble Court,Red Scar Business Park,Longridge Road | PR2 5NJ | Preston | England | https://www.musicmatter.co.uk/ |
| DJ Superstore | Airborne Industrial Estate, Southend Arterial Rd,  | SS9 4EX | Southend-on-Sea | England | https://www.djsuperstore.com/ |
| DJ Shop | 11-13 Church Street | SO15 5LG | Southampton | England | https://www.thedjshop.co.uk/ |
| Music Gear Direct | 11 Pentrich Rd, Giltbrook Industrial Park | NG16 2UZ | Nottingham  | England | https://www.musicgeardirect.co.uk/ |
| Breve Music | Rivergate Arcade, 27 Viersen Platz | PE1 1EL | Peterborough  | England | https://brevemusic.co.uk |
| Professional Music Technology | 48-50 Queens Rd | SS1 1NL | Southend-on-Sea | England | https://www.pmtonline.co.uk |
| Professional Music Technology | Unit 4, Trident Retail Park, 6 Westley Street | B9 4EH | Birmingham | England | https://www.pmtonline.co.uk |
| Professional Music Technology | 86 Bridge Street  | NN1 1PD | Northampton | England | https://www.pmtonline.co.uk |
| Professional Music Technology | 381 Cowley Road  | OX4 2BS | Oxford | England | https://www.pmtonline.co.uk |
| Professional Music Technology | 10-14 Eastern Avenue  | RM1 4DR | Romford | England | https://www.pmtonline.co.uk |
| Professional Music Technology | Red Rose Retail Centre, Regent Road     | M5 3GR | Salford | England | https://www.pmtonline.co.uk |
| Professional Music Technology | Citygate, 9 Kirkstall Road     | LS3 1LH | Leeds | England | https://www.pmtonline.co.uk |
| Professional Music Technology | 67-73 New Botolph Street | NR3 1DT | Norwich | England | https://www.pmtonline.co.uk |
| Professional Music Technology | 5 Rupert Street | BS1 2PY | Bristol | England | https://www.pmtonline.co.uk |
| Dolphin Music | Venture Point West, 70-72 Evans Road, Speke | L24 9PB | Liverpool | England | https://www.pmtonline.co.uk |
| Professional Music Technology | 172 East Road | CB1 1BG | Cambridge | England | https://www.pmtonline.co.uk |
| Professional Music Technology | 27-29 Dean Street | NE1 1PQ | Newcastle | England | https://www.pmtonline.co.uk |
| Professional Music Technology | 12 Fitzherbert Spur | PO6 1TT | Portsmouth | England | https://www.pmtonline.co.uk |
| Professional Music Technology | 2 Marco Island, Huntingdon Street | NG1 1AR | Nottingham | England | https://www.pmtonline.co.uk |
| Professional Music Technology | 35-39 Old Street | EC1V 9HX | London | England | https://www.pmtonline.co.uk |
| Gear4music | Kettlestring Lane, Clifton Moor Gate | YO30 4XF | York | England | https://www.gear4music.com/ |
| Rimmers Music | 62-64 Devonshire Road | FY3 8AA | Blackpool | England | https://www.rimmersmusic.co.uk/ |
| Rimmers Music | 29-31 Goodwin Street | BL1 1UN | Bolton | England | https://www.rimmersmusic.co.uk/ |
| Rimmers Music | 11 Broad Street | BL9 0DA | Bury | England | https://www.rimmersmusic.co.uk/ |
| Rimmers Music | Savoy House, West Derby Road | L6 1AE | Liverpool | England | https://www.rimmersmusic.co.uk/ |
| Rockbottom Music | 68-70 London Rd, Croydon  | CR0 2TB | Croydon | England | https://www.rockbottommusic.co.uk/ |
| Rock Factory | Wheldon Road | WF10 2SD | Castleford | England | https://www.rockfactory.co.uk/ |
| Rose Morris | 10 Denmark Street | WC2H 8TD | London | England | https://rosemorris.com/ |
| Soundpad | Unit 2, Rolle Quay House, Rolle Quay | EX31 1JE | Barnstaple | England | https://www.soundpad.co.uk/ |
| Studio Spares | 19-21 Bilton Way | LU1 1UU | Luton | England | https://www.studiospares.com/ |
| The Disc DJ Store | 118 Sunbridge Road | BD1 2NE | Bradford | England | https://www.thediscdjstore.com/ |
| The Audio House | 215-217 Tarring Road | BN11 4HW | Worthing | England | https://theaudiohouse.co.uk |
| Total Sounds | Unit C5, Welldale Street | RG1 7BX | Reading | England | https://totalsounds.co.uk/ |
| Electronic Centre | 16 College Square E, Antrim  | BT1 6DE | Belfast | Northern Ireland | https://electroniccentre.co.uk/ |
| DJ Box | 1 Cooktown Enterprise Park, Old Belgard Road | Dublin 24, D24 V9KT | Dublin | R.O.I | https://www.djbox.ie/ |
| FSV | Unit 2, Newtownmahon House, Mulgrave Street | | Limerick | R.O.I | http://www.fsvltd.ie/ |
| Promusica | 20, Oliver Plunkett Street | | Cork | R.O.I | https://promusica.ie |
| Savins Music | 111 O'Connell Street | | Limerick | R.O.I | https://www.savins.ie/ |
| Sounds Around | 9 Capel Street | | Dublin | R.O.I | https://www.soundsaround.ie/ |
| Waltons Music | Unit 426, Blanchardstown Centre | | Dublin | R.O.I | https://www.waltons.ie/ |
| Guitar Guitar | 36 Trongate | G1 5ES | Glasgow | Scotland | https://www.guitarguitar.co.uk/ |
| Sound & Vision | 14-18 South Street | IV30 1LE | Elgin | Scotland | https://www.soundandvisionelgin.co.uk/ |
| Professional Music Technology | 52-54 St Mary Street | CF10 1FE | Cardiff | Wales | https://www.pmtonline.co.uk |
| Zelma Sound & Light  | Ty Gwyn, Pengam Road, Brittania,  | NP12 3AA | Blackwwod | Wales | https://www.zelmasoundandlight.co.uk/ |
RUN FOR COVER: Yamaha DXRmkII / DXS Autumn Deal