In a series of videos Yamaha Artist Mike Patrick (The Streets, Jake Bugg, JP Cooper) sits down with the new YC61 Stage Keyboard and shares some of his highlights of Yamaha's latest release.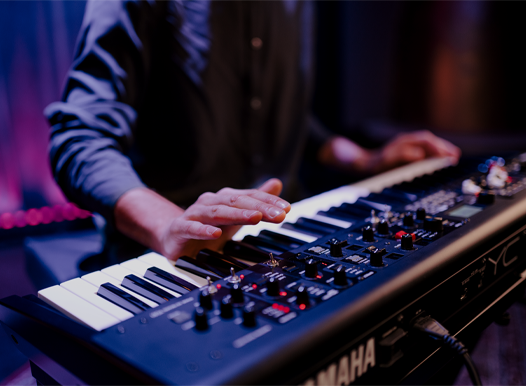 YAMAHA YC61
Designed for gigging keyboardists, the YC61 features newly designed Virtual Circuitry Modeling (VCM) Organ engine with physical drawbars, extensive real time control and authentic Acoustic/Electric Piano and FM synth sound.
SOUND
How do you reproduce the warm, authentic sound of an organ in a compact stage piano? You build an organ engine the Yamaha way, from the ground up. Our proprietary Virtual Circuitry Modelling (VCM) recreates the circuits of vintage analog EQs, compressors and phasers right down to the transistors and resistors to capture the subtleties other digital simulations can't. Whether you're playing grand piano, upright piano, electric piano or more, YC61 gives you authentic keyboard sounds for any genre of music.
VCM ORGAN
Yamaha puts the sound of your favourite tone-wheel organ in one powerful, compact stage piano. YC61 models three flavours of tone-wheel - just out of the box, well-travelled and character-rich vintage. Need more? Go under the hood to adjust key click, leakage, rotary speaker speed and more to get the one-of-a-kind organ tone you've been searching for.
VCM ROTARY SPEAKER
YC61 brings you the authentic sounds of classic rotary speakers with no maintenance required. Choose from two faithfully modelled rotary speaker profiles – clean and full or dirty and aggressive – and adjust top or bottom rotor speed for total control over all of it.
VCM EFFECTS
VCM re-creates the sound and behaviour of vintage effects and high-end studio signal processors by modelling the circuits down to the original analog component level.
FM ORGAN
In 1983, Yamaha introduced the iconic sounds of FM (Frequency Modulation) synthesis to the world with the launch of the DX7. Now YC61 brings FM synthesis to the organ for a new generation of players. Simply switch to FM Organ and your drawbars control 8 FM operators that send a pure sound with massive low end. Add rotary speaker or amp sim effects for character and vibe. Intuitive controls make it easy to discover new sounds. Or recreate classic transistor organ tones from warm to reedy to buzzy by choosing one of three popular FM Organ modes.