Making music. The ultimate new year's resolution.
Making music. The ultimate new year's resolution.
New year is traditionally the time when we take stock of ourselves, resolving to live lives that are more productive, more meaningful and, ultimately, more fulfilling. And what better way could there be to kickstart latent creativity and meet interesting new people than to get involved in making music. But where to start?
Taking the first steps
It's actually never been easier to take the first steps towards a musical future with plenty of enthusiastic teachers ready and able to guide you on your journey. Search online for local associations and music services. They're a great source of information and can help you find the teacher that's right for you.
Nothing beats the feeling of making music together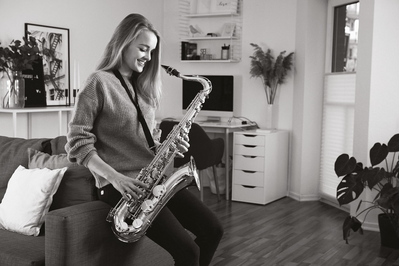 Of course solo practice is important to reach your full potential, and teachers are experienced in creating practice routines that are engaging, productive and fun.
But nothing beats the feeling of playing with other musicians and making progress together. It's a philosophy that lies at the heart of Yamaha's ClassBand program.
But what if your school days are behind you? Well you could join a local music group.
Most major towns and cities have them and, although it might sound like an ambitious step for a musical newbie, many have 'starter bands' with a wealth of musical experience on tap to support and help you on your way.
Once again, the search engine is your friend.
The right instrument will always inspire you
So there are plenty of communities to join and opportunities to learn and develop, but which instrument are you going to choose? Picking up a saxophone for the first time can be a daunting experience for someone who hasn't touched a musical instrument since playing the recorder at primary school. That's why Yamaha has developed a range of hybrid instruments like the ground-breaking Venova 'Casual Wind Instrument' which combines the easy and familiar fingering of the humble recorder with rich, saxophone-like sounds to create an accessible new instrument that could have you playing soaring solos in
For a more conventional approach, the Yamaha line-up covers nearly every category of wind and string instrument. And Yamaha's extensive ranges of student instruments are all about great sound and easy playability, ensuring that developing musicians remain inspired and encouraged, every time they play.
Practice your own way
As inspiring and fulfilling as it is to make music, connecting with your inner musician isn't always compatible with modern life. Once again, Yamaha has the answer with its extraordinary SILENT technology for practicing musicians who find it impossible to rehearse without disturbing housemates or neighbours. SILENT Violin, Cello, Viola, Bass and SILENT Brass systems all use Yamaha's advanced digital technology to create instruments that combine the touch and feel of the real thing with the facility to play silently through headphones, making practice possible anywhere, at any time.
With music, the possibilities are endless. Just a few notes and a great idea are all takes to change to your world, and maybe even the world around you. And you'll have a lot of great times along the way. So perhaps 2022 should be your year of making music.
Making music. The ultimate new year's resolution.