i-UX1 offers a USB MIDI connection between USB-equipped instruments and CoreMIDI-compliant iOS Applications.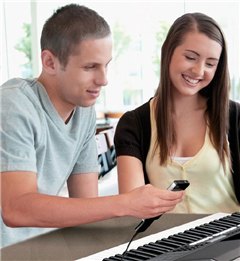 i-UX1 is a USB MIDI interface cable which enables an iPhone/iPod touch/iPad to be connected to instruments which have USB to HOST connectivity.
Set-up is easy, simply connect i-UX1 between an iPhone/iPod touch/iPad and your instrument such as a portable keyboard, electronic drum kit or synthesizer.
A new way to enjoy your digital musical instrument.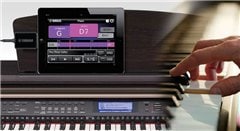 There are a number of applications available from Yamaha which will increase the joy of playing your instrument by utilising the unique interface of your iPhone/iPod touch/iPad. Yamaha iOS Applications are available from the App Store.
Others
iPhone/iPod touch/ iPad is not included.
iPad, iPhone and iPod touch are trademarks of Apple Inc., registered in the U.S. and other countries.
Lightning to 30-pin Adaptor is needed for connecting to iPhone 5/iPod touch(5th generation)/iPad(4th generation)/iPad mini.
The colours and finishes shown may vary from those on the actual products.