Light and compact design for portability
Washable with water and easy to clean
Easy fingering similar to recorders
Rich, expressive tone like saxophones and a full blowing sensation
Spans a range of two octaves even with its simple structure
Play your favorite tunes with the gentle voice of the Tenor Venova
With the largest size Venova, the Tenor Venova makes it even easier for beginners to make gentle sounds.
A fun new wind instrument that blends the simplicity of recorder with the sound of a saxophone. The Tenor Venova makes it easy for anyone—even beginners—to make gentle voice.
Use of "branched pipe"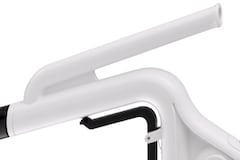 With a "branched pipe" added to the cylindrical bore, the tone of a conical bore instrument (e.g., saxophone) is achieved in compact size.
Meandering pipe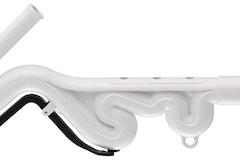 A meandering pipe is used to shrink the distance between tone holes for a simplified structure to minimize the use of keys.
Easy fingering similar to recorders that is easy to play even for those who are new to wind instruments.
Durable, easy-to-handle material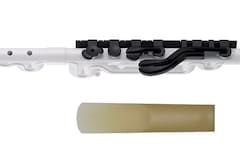 The body made with ABS resin is durable and washable with water.
With a Durable resin reed and synthetic pads (for key parts), cleaning is easy.
Two-piece body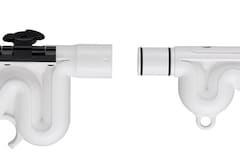 The upper and lower sections of the body can be separated for easy cleaning.
Easy to start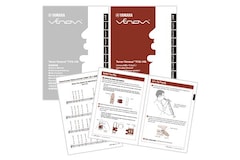 In addition to the owner's manual, the "Let's Play Venova!" guidebook includes tips on posture, sound production, and controlling pitch and tone. It also contains sample songs.Even those who are completely new to wind instruments can have fun while learning.
Case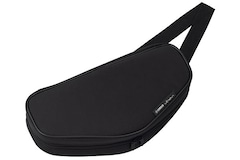 Dimensions: L 395 mm, W 80 mm, H 200 mm (with strap)
Weight: 334 g (with strap)
Accessories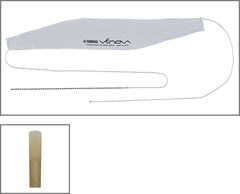 Top: Cleaning swab
Bottom: Synthetic (resin) reed
JAZZ
Vjazz001_C_short
Vjazz001_F_short
Vjazz001_C_long
Vjazz001_F_long
R&B
Vrab_C_Short
Vrab_F_Short
Vrab_C_Long
Vrab_F_Long
HIPHOP
Vhiphop001_C_short
Vhiphop001_F_short
Vhiphop001_C_long
Vhiphop001_F_long
DANCE
Vdance001_C_short
Vdance001_F_short
Vdance001_C_long
Vdance001_F_long
POP
Vcity001_C_short
Vcity001_F_short
Vcity001_C_long
Vcity001_F_long
Vpop001_C_short
Vpop001_F_short
Vpop001_C_long
Vpop001_F_long
WORLD
Vbossa001_C_short
Vbossa001_F_short
Vbossa001_C_long
Vbossa001_F_long
Terms of Service
The user shall use the audio files in compliance with the provisions of this agreement.
By downloading or streaming the sound source, the user is deemed to have agreed to all the terms of this agreement.
Please be sure to read the following terms and conditions before using.
Copyright
The audio files can be downloaded or streamed free of charge, but all copyrights related to the audio files belong to Yamaha Corporation.
Prohibited matter
The use of the audio files for the following purposes and methods is prohibited.
(1) Use, distribute, or sell for commercial purposes
(2) Use for purposes that are offensive to public order and morals, political purposes, and antisocial content such as sexual and violent content.
(3) Use for defaming the honor, voice, etc. of a third party, for slanderous purposes, or for other illegal purposes
(4) Modifying all or part of the audio files
Limitation of liability
We are not responsible for any of the following items.
(1) Any claims, proceedings and damages (ordinary damages, special damages, direct damages, consequential / indirect / incidental / incidental damages, lost profits, or any other type) caused by the use of this sound source by the user. Includes damages whether or not we know that such damages may occur)
(2) Liability for infringement of rights, compensation for damages and other claims or claims from third parties
Cleaning Swab for Tenor Venova
Best for cleaning and drying inside of the Tenor Venova.
Synthetic Reed for Tenor Venova
Developed specially for Tenor Venova, it offers easier maintenance and better durability for beginners. The reed strength is designed softer so that beginners can make sound easier (similar to 2.5 of common cane reed).
* The swab and reed are same as those come with the instrument (Venova).
The colours and finishes shown may vary from those on the actual products.