Biography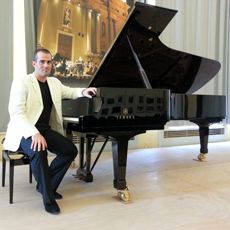 Alberto Nosè graduated from the Conservatory "F. E. Dall'Abaco" in Verona with Prof. Laura Palmieri and continued his education with Professors Franco Scala, Boris Petrushansky and Leonid Margarius at the International Piano Academy "Incontri col Maestro" of Imola where he obtained the Piano Master in 2005.
Following on from his success at the Jugend für Mozart International Competition, Alberto was able to undertake his first concert tour through Italy, Austria and France. After being awarded 1st prize unanimously at the 1998 Premio Venezia, he went on to win prizes at a number of prestigious international piano competitions including 1st prize at Vendôme Prize in Paris in 2000, 1st prize at "Maj Lind" in Helsinki in 2002, 1st prize, Gold Medal and Audience Prize at "Paloma O'Shea" in Santander in 2005, 1st prize at "Top of the World" in Tromsø in 2011.
As a result of Alberto's success at competitions, this has led to performances at venues throughout Europe and all over the world, performing at Carnegie Hall in New York, Royal Festival Hall in London and Suntory Hall in Tokyo. Alberto has also performed with a number of high profile musicians and orchestras including the London Philharmonic Orchestra, English Chamber Orchestra and the Ysaÿe Quartet.
As well as live performances, Alberto Nosè has also been involved in a number of recordings for Radio Classica, Radio Gdansk and Radio Suisse Romande. In 2007 he recorded a CD for Nascor-Yasye Records performing the music of Schumann and Prokofiev and was awarded the prizes Diapason d'Or, La Clef ResMusica.com and Coup de Coeur Fnac.
In 2008 Domovideo released a DVD of Alberto's performance at the 250th Mozart Anniversary which was broadcast by SKY Classica. In the same year, Naxos published his CD of the Six Sonatas op.17 by Johann Christian Bach which received the "CHOC de Le Monde de la Musique" and the "4 Diapason Superbe" prizes.
Alongside his recording and performance work, Alberto regularly presents master-classes at Conservatories, Colleges, Institutions ad International Music Festivals such as the Conservatoire de Musique, Geneva and the Mannes College of Music in New York and also in Japan.
He is currently Professor of Piano at the Music Academies in Gdansk and in Bydgoszcz.
Alberto owns a number of Yamaha pianos including an S4, an S6 and his favourite, the Yamaha CFIIIS, which is kept at his studio in Italy. When asked what a Yamaha piano means to him Alberto says: "Yamaha is an uncompromising masterpiece for sound, touch and beauty; and me the artist who expresses himself and discloses these qualities to the audience".