Biography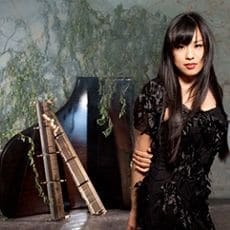 HJ began her musical studies at the age of three and her prodigious talent was quickly recognised. Aged twelve, HJ decided of her own accord to relocate to France where she immersed herself in the musical world of the composers who had shaped her early years. She later graduated from the Conservatoire National Région de Compiègne with First Prize and highest distinction in the class of Marc Hoppeler. At fifteen, she became the youngest ever person to obtain the "Diplôme d'Etudes Musicales Complètes" of Normandy in France.
Subsequently HJ was awarded the "Perfectionnement Cycle" for chamber music and piano at the Conservatoire National de Rouen and she received First Prize and the highest distinction.
In 2003 HJ Lim commenced her studies at the Conservatoire National Supérieur de Musique de Paris under Henri Barda and three years later she graduated with First Prize and obtained the "Diplôme de Formation Supérieur", again, with highest distinctions. While there she studied conducting and was chosen to direct the Orchestre des Lauréats in works including Handel's Alcina, Schoenberg's Kammersymphonie, Haydn's Symphony No. 44 and Britten's Les Illuminations.
HJ LIM sensationally exploded onto the international music scene In November 2009 when her recital at the Stadtcasino Basel, which included Rachmaninov's complete Etudes-Tableaux and Chopin's complete Etudes, was uploaded to YouTube. Unprecedented online traffic captured the imagination of the industry and audiences alike.
Subsequently, in August 2010, HJ Lim performed the complete Beethoven Piano Sonatas over eight consecutive days in Paris and one year later she went on to record the complete cycle for EMI Classics on a Yamaha CFX concert grand . In May 2012 the CD reach number one in the Classical iTunes charts.
HJ is now preparing to tour exclusively using a Yamaha CFX concert grand piano.
HJ says "The CFX is the best piano I have ever played. Yamaha have created a magical instrument and one I love : The CFX produces lots of power and great expression, the musical palette and range of colours is amazing. A great piano is like a friend to you, it knows what you want to do and the CFX is very helpful"