Biography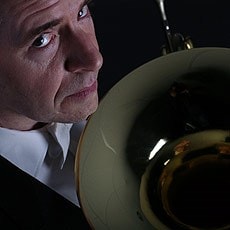 As a freelance session player he can be heard playing on numerous films including Return of the Jedi, Chicken Run, Gladiator, The Mummy, Shrek, Harry Potter, Lord of the Rings and A Quantum of Solace and has worked with artists such as Paul McCartney, Elton John, Robbie Williams, Joni Mitchell and Westlife. He has performed the Britten Serenade and Mozart's 4th concerto with the LPO at the RFH and the concertos of Haydn, Telemann, Mozart and Strauss at the QEH and the Barbican. Solo recordings include Bach's Brandenburg concertos 1 and 2 with the Consort of London for Collins Classics, Back to Back to Back - an album of improvised inventions with the horn players Phillip Eastop and Jonathan Williams, Frank Martin's Concerto for 7 Wind Instruments with the LPO for Chandos and Balfe's Cantata 'Sempre pensoso e torbido' for Opera Rara.
As a member of London Brass since 1990 he has taken part in some of the world's major music festivals and has taught and given master-classes in Europe and the USA. Many of his virtuoso arrangements for the 10-man ensemble have been recorded for Teldec and the latest London Brass CD, 'Surprise' featuring four of his arrangements was released in 2005.
Richard was chief arranger on the hugely successful 2001 London Horn Sound CD. A follow-up CD Give it One has just been released and again features his compositions and arrangements. The LPO has commissioned several compositions including Christmas Carnival, (winner of the Yorkshire TV/Musicians' Union Peter Knight Award), Grand Opening, Philharmonic Fanfare and Rhapsody for Piano and Orchestra, premiered in 2003 by the LPO in the Royal Festival Hall with Philip Fowke as soloist.
The LSO commissioned a new Sinfonia Concertante for its centenary that was premiered in September 2004 at the Barbican under Sir Colin Davis and recorded for LSO Live.
Recently he composed a large antiphonal fanfare to celebrate the LPO's 75th birthday along with a major LPO commission, Excite!, premiered in June 2008 at the RFH under Vladimir Jurowski.
For television Richard has written the music for Channel 5's One to Win, music for BBCTV Sport, and The Open Century and The Oranje Goal documentaries for Trans World International.
He was made a Fellow of the Royal Academy of Music in 2005.
Richard Bissill is a Yamaha artist and performs on Yamaha French Horns.
For more information visit Richard's website: http://www.richardbissill.com