Biography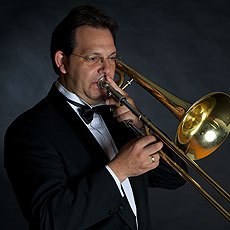 Spyros Farounghias was born in 1970 in Corfu, where he began studying music at the Mantzaros Philharmonic Society.
He continued his studies in Athens at the Raimondis Conservatory under Ioannis Elefantis, where he received his diploma in the trombone.
Ηe has taken part in international trombone competitions in the Italian city of Porcia, and the capital of the Czech Republic, Prague.
He has attended trombone and chamber music seminars in Greece and abroad, with famous teachers and soloists such as Denis Wick, Gilles Milliere, Ingemar Roos, Michel Becquet, John Marcellus and the German Brass Ensemble.
He was a member of the Mediterranean Youth Orchestra in 1992 and 1993. He has worked with the Greek Radio and Television National Symphony Orchestra and the Orchestra of Colours. He is a member of the Olkos trombone quartet, the Athens Brass Ensemble and the Melos Brass quintet.
Since 1994 he has been principal musician in the orchestra of the Greek National Opera. He teaches at the Municipal Conservatory of Kalamata and the Philippos Nakas Conservatory.