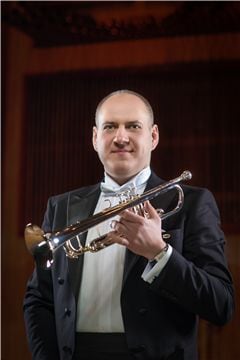 Tomasz Gluska graduated with honors from the Music Academy of Feliks Nowowiejski in Bydgoszcz in the trumpet class of prof. Roman Gryń. He took part in competitions such as: Polish Trumpeters' Festival in Kalisz, International Competition for Brass Instruments in Gdańsk, Yamaha Scholarship Competition. He is a laureate of the III International Brass Wind Competition in Gdańsk, at which he received a distinction and an award founded by the City Hall of Gdańsk. He participated in many courses led by outstanding trumpeters and educators, such as Andrew Balio, Konradin Groth, Richard Giangiulio, Richard Carson Steuart, Manfred Bockschweiger, Wolfgang Bauer, Gabriel Cassone
Every day he works as a Principal trumpet of the Pomeranian Philharmonic in Bydgoszcz. He conducts active concert activities both as a soloist and chamber musician. He is a teacher in the trumpet class at the Bydgoszcz Music Academy and in the State Music School Complex of Artur Rubinstein in Bydgoszcz. He collaborates with many orchestras and bands (including Capella Bydgostiensis, Triumphal Brass, El-Jazz Big Band). He has performed in Poland and abroad, as well as recording with bands performing classical, jazz and entertainment music. He runs courses for trumpet players and teachers, as well as methodological consultations in educational institutions throughout the country.
"All Yamaha instruments are characterized by full and rich sound, flexibility and extremely precise intonation. This allows me to fully enjoy while performing music, regardless of its type, regardless of whether it's playing in the Symphony Orchestra, through solo recitals, or commercial music. Yamaha puts great attention to every detail of the performance of their instruments and to their cooperation with the Artists which makes playing the instrument much more pleasant in every aspect of my work. In addition, as an active teacher, I greatly appreciate Yamaha commitment in education of the young generation of future musicians. Why Yamaha? ... it's obvious!"
Tomasz Gluska plays Yamaha trumpets YTR-9335 CHS, YTR-9445 CHS and YTR-9835 - B / A.