Portable Office Tips for Employees that Travel
Portable Office Tips for Employees that Travel
The "digital nomad" lifestyle has become a huge trend in recent years, with freelancers working remotely and traveling the world. Today's technology has even allowed employees to take a long "vacation" to another city, state, or country, while still having instant access to their work. This trend is part of a larger movement towards minimalism, where people prioritize experiences more than possessions, and they have a healthier work to life balance.
Still, many full-time employees and business owners feel that the remote lifestyle is out of their reach. In truth, almost anyone can learn how to work remotely, as long as they put a few systems in place and stick to a basic routine.
First, you should invest in a portable office with all the tools you need to be successful while traveling. Though it's usually possible to check into a coworking space while on the road, there are definitely situations where you have an upcoming deadline and may need to work in the airport, at the nearest coffee shop or in a hotel room. With the right tools, you can stay productive in unfamiliar places, while still having free time to enjoy yourself.
In this guide, we've shared how to work remotely by embracing the latest technological tools. Whether you're taking a brief business trip, or traveling the world while running a six-figure company, you can use these tips to build the ideal portable office.
Trend Toward Working From Anywhere
Work from anywhere jobs are becoming commonplace in our digital landscape, and there are so many benefits to working remotely. You don't have to commute with a car or public transit, you can set your own schedule, and you get to enjoy the sights and sounds of a new city.
However, the downside is that if you're not a self-motivated individual, you will have a hard time staying disciplined with so many distractions on the road. You won't have a boss looking over your shoulder, and you won't have to travel to a specific location, so there will be less pressure to finish projects. This is why it's crucial to figure out a schedule that works for you, and then stick to it. Jet lag and unpredictable traveling can get in the way, but the routine will provide a framework for you to stay focused. Your coworkers will also be able to better keep tabs on when they can reach you.
What is a Portable Office?
Consider the tools you use on a daily basis when working in your normal office. Most people have a computer with all the necessary software for work, a system for keeping tabs on your schedule, maybe a notebook, a few good pens, and of course, a phone or video conference solution to connect with coworkers.
Simply put, a portable office shrinks down your workspace, so you can take it with you.
Portable Office Essentials
If you're building a portable office from scratch, here are a few of the most important tools that every business traveler needs:
Laptop/Tablet: This is the heart of your portable office. It's crucial to have a slim and lightweight computer that slides easily into a bag. If you work entirely in a web browser, you might consider a Chromebook or iPad, but most people migrate towards the functionality that a laptop provides.
Powerbank: This small external battery allows you to charge a smartphone or tablet while on the go. If you use a device throughout the day without plugging it in, a powerbank is absolutely essential.
Travel adapter: This allows you to plug your device into a foreign outlet if needed. We recommend investing in a "global" adapter that works with most countries' outlets.
Headphones: Depending on your taste, it might be worth buying a sturdy pair of "over-ear" headphones that block out external noise. For most people, a set of portable earbuds will suffice.
Audio Technology for a Portable Office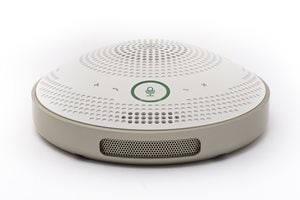 Finally, if you make conference calls while on the go, you need a tool that delivers clear audio so you can communicate effectively at home, in a hotel room, or in a coworking space. With a portable speakerphone like the Yamaha YVC-200, you can transform virtually any laptop or mobile device into a conferencing system.
Designed with Bluetooth and USB capability, the YVC-200 uses adaptive echo cancellation and noise reduction, so that you clearly hear the other parties on the line. The speakerphone is small enough to fit in a backpack front pocket (it even comes with a carrying case!), and delivers powerful audio for 10 hours on a single charge. The headphone jack also provides private listening which can be helpful when taking calls on-the-go.
If you use virtual conferencing platforms like Skype for Business or Zoom while traveling, a portable speakerphone like the YVC-200 delivers a professional conferencing experience whenever and wherever you decide to take your office!
Portable Office Tips for Employees that Travel