Selecting Microphones for Virtual Classrooms, Remote Learning and Online Classes
Selecting Microphones for Virtual Classrooms, Remote Learning and Online Classes
Hosting online classes can be challenging without the right tools. If students are constantly in a state of confusion during class, either because they didn't hear what was said or because the audio has become garbled, the entire learning experience breaks down. The last thing a student wants is to be distracted or lose patience when a grade is on the line. If your institution is new to virtual learning or looking to enhance a current solution, we've outlined some tips to keep in mind.
We've explored different conference microphone types in the past, but when it comes to remote learning, instructors and students have unique needs.
Selecting the right microphone for online classes
The type, style, and configuration of microphone systems naturally must be top considerations in selecting equipment for remote lecture capture. How easily will it be to deploy or operate?
Wearable Microphones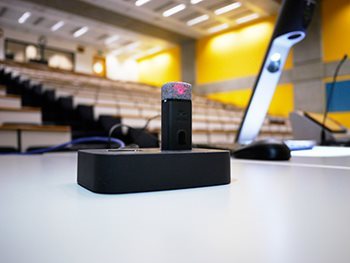 Systems like the xTag or HD Single/Dual offer compact and comfortable wearable microphone options that are great for live or pre-recorded lectures. With rechargeable batteries and no wires or battery pack needed, this allows flexibility for teachers and facilitators to move about and engage naturally. With a trustworthy audio pick up, you can focus on the lecture and take the worry out of online lectures.
Speakerphones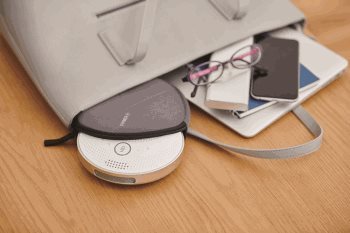 Speakerphones are another great option for teachers who need to host online classes. A portable speakerphone like the YVC-200 or YVC-330 is a great option for more interactive settings. For personal use we recommend the YVC-200 speakerphone. It has USB, Bluetooth and NFC connections, with a 10-hour battery time. The device is small enough to set up your space anywhere for impromptu calls or become a staple in your home office. For student participation, this portable speakerphone can also be a great addition to ensure a truly collaborative experience.
For those who may be hosting from a house with others or at a shared working location, the YVC-330 is a great option for blocking out unwanted background noise. With similar functionality to the YVC-200, it adds an additional sound technology called SoundCap that eliminates background noise outside a one-meter range. This can be a great tool for ensuring an instructor's voice is picked up and clear for participating students.
Virtual Learning Microphone Compatibility
When selecting a microphone for virtual learning, ensuring compatibility with your systems is key. Whether you want to add on to an existing system or are planning to switch in the future, a USB solution that is software agnostic enables your institution and lecturer's the flexibility to switch from systems with little hassle.
Microphone Techniques for Lecture Capture
Once you've invested in a solid device, there are a few common microphone techniques that can help your teachers capture better audio.
- Speak directly towards the microphone. Speaking away from the microphone can cause the sound to become quiet or muffled.
- As the inverse square law suggests – keeping the microphone at a closer distance to your mouth, will always provide better sound pickup.
- When wearing a wearable microphone, be sure not to bump or drop it during the meeting. This amplified noise can be harsh when sent through to the far-end and the scratching of clothing against the microphone can cause scratching noises to overpower the content.
Selecting Microphones for Virtual Classrooms, Remote Learning and Online Classes