The Best Bluetooth Speakerphone for Working from Home
The Best Bluetooth Speakerphone for Working from Home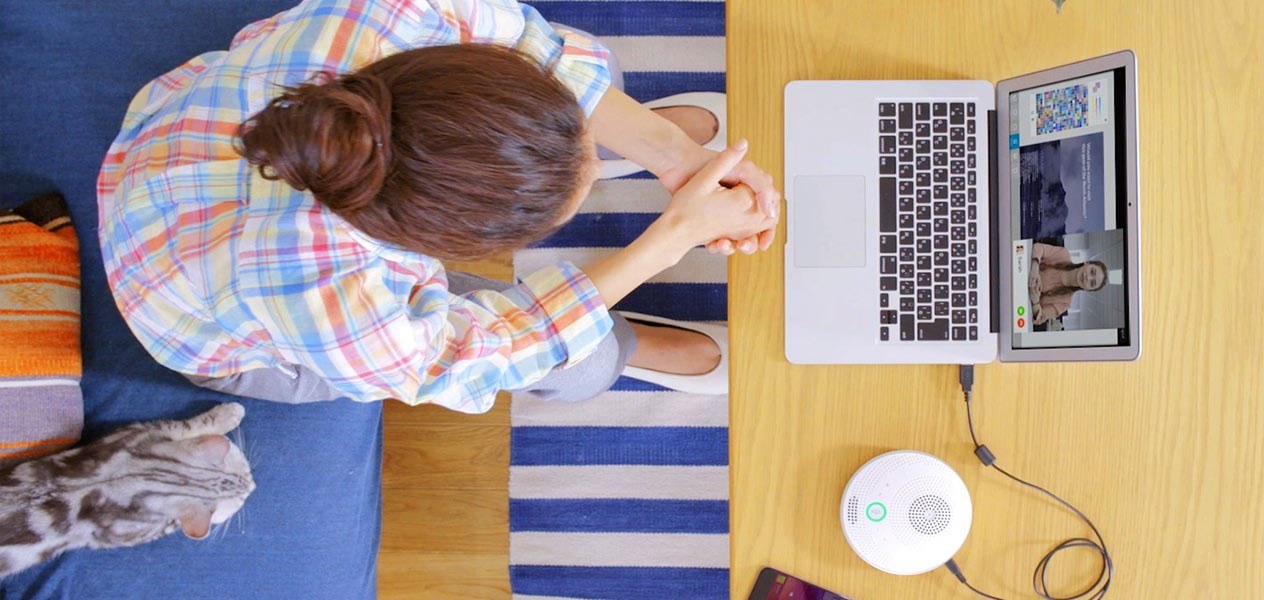 Technically, you can use your smartphone's speaker functionality for a hands-free experience, but the audio quality on most phone speakers is underwhelming at best. If you plan on using your smartphone for professional conference calls, you'll want to invest in a high-fidelity audio solution. Today, most of the latest tech products support Bluetooth, allowing you to connect multiple devices wirelessly with the push of a button.
In this guide, we've outlined the top 3 benefits of a portable Bluetooth speakerphone for your home office or business travel needs. We've also shared the best Bluetooth speakerphone on the market today. If you're constantly on the go, we highly recommend adding a Bluetooth speaker to your travel arsenal.
Connectivity
Connectivity
With a Bluetooth speakerphone, you can instantly transform your living room or hotel room into a home office. Telecommuting employees can work anywhere, without compromising on audio quality. You're not bound to a landline, either, because the Bluetooth speakerphone is designed to sync with your smartphone. As long as your phone supports Bluetooth connectivity, you can use the speakerphone with any conferencing app, including Microsoft Teams, Google Hangouts, and Vidyo. Many Bluetooth speakerphones are portable enough to carry in a small backpack or laptop bag, so you can connect virtually anywhere with cell service or a WiFi signal.
Agility
Agility
Bluetooth technology is fast. All you need to do is enable Bluetooth on your smartphone, turn on the speakerphone, and you'll be connected in seconds. If you're on a long conference call using your smartphone, and you're getting tired of craning your neck, you can quickly set up the Bluetooth speakerphone without ending the call. This allows you freedom of motion while freeing up your hands so you can take notes while listening to a presentation.
Mobility/Portability
Mobility/Portability
Finally, a Bluetooth speakerphone offers more portability than your average conferencing system. The best models are designed with a rechargeable battery, so you can use them all day without relying on an external power source. Everything is built into the speakerphone housing, including an omni-directional microphone, a powerful speaker, and various audio controls. These little workhorses fit easily into a travel bag, and you can pair them with any Bluetooth-capable device nearby.
The Best Bluetooth Speakerphone for Working from Home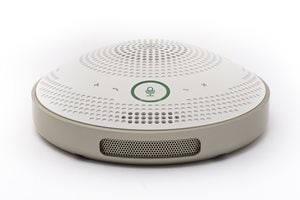 The Best Bluetooth Speakerphone for Working from Home
Today, the Yamaha YVC-200 is the best Bluetooth speakerphone for conference calls on the market, recently winning SCN's 2018 list of "Products of the Year". It's designed to deliver professional quality audio wherever you happen to be, with a built-in rechargeable battery that lasts up to 10 hours. The sleek and compact design looks great on any desk, coffee table, or dining room table. Set up shop anywhere in the house, without worrying about plugging in the YVC-200.
When it's time to take a business trip, simply slide the speakerphone into its soft case and throw it into your travel bag. Even in a loud city environment, the YVC-200's adaptive echo cancellation and human voice activity detection ensure that you're heard above the noise. If you feel like making the call private, you can plug headphones into the speakerphone at any point. The YVC-200 fits Yamaha's remarkable sound technology into an ultra-portable package.
The Best Bluetooth Speakerphone for Working from Home