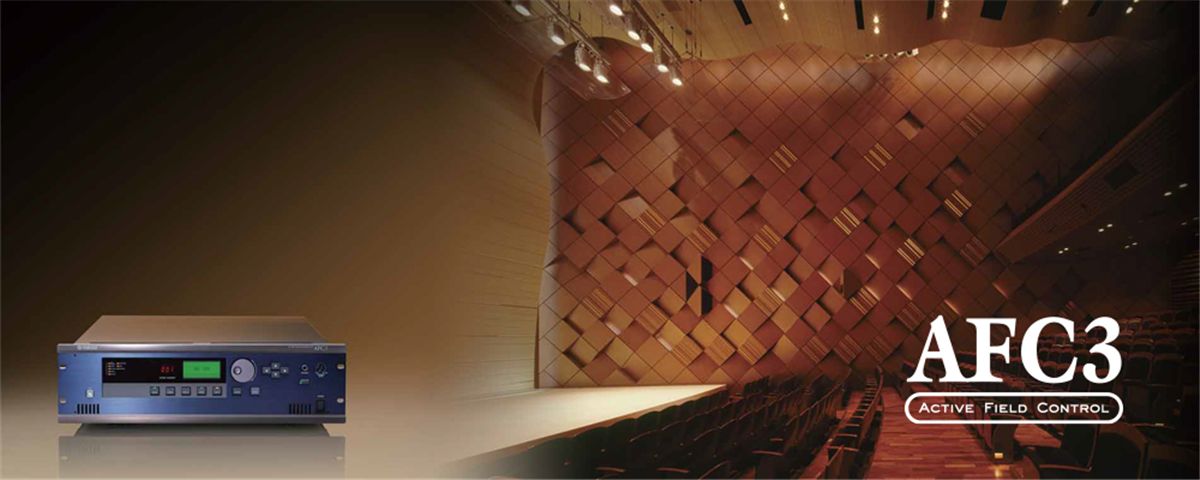 Active Field Control
For over 125 years Yamaha craftsmen have created some of the world's finest musical instruments. Superior sound quality has always been the driving force behind all of Yamaha's efforts. Whether manufacturing instruments, developing state-of-the-art audio technologies or designing performance halls and theatres, Yamaha is always seeking new ways to deliver the best possible listening experience.
First implemented by Yamaha in 1985, Active Field Control (AFC) is an acoustic conditioning system designed to adjust and enhance the architectural acoustic characteristics of facilities such as performance arts venues, houses of worship, theatres and concert halls—while maintaining the natural sonic characteristics of the space.
AFC3 represents the third generation of innovative Active Field Control (AFC) systems from Yamaha, the most trusted name in audio.
With increasing pressure for facilities to become more multi-purpose and accommodate a wider range of applications AFC3 provides a cost-effective alternative to mechanical means of modifying room acoustics. A truly scalable solution which can be installed in a wide range of venues AFC3 makes it possible to hold classical concerts in a very large hall without a sound reinforcement system, to accommodate an organ in a small church, or to enhance crowd response in a stadium. Reverberation changes can be made at the push of a button, allowing the performance environment to be adjusted almost instantly. In addition AFC3 is able to deliver the same high-quality sonic experience to every performer and member of the audience.
Yamaha AFC systems are currently installed in over 80 facilities in the U.S. and Japan, and now with the release of AFC3, a much wider range of facilities worldwide will now have access to the best acoustic enhancement system available today.
What is AFC ?
Active Field Control is an acoustic enhancement system that is used to improve or enhance the architectural acoustic characteristics of a room and optimize reverberation while preserving that room's natural acoustic 'signature'. Yamaha DSP technology enables us to realize this system with a small set of core devices.
AFC adjusts acoustical conditions by using an acoustical feedback system which makes AFC different from, and superior to, other techniques that are based on the use of digital reverbs to simulate room characteristics.
AFC3 Core Unit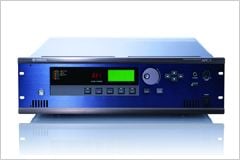 The AFC3 core unit is based on Yamaha's well-known DME64N digital mixing engine. The enhanced AFC3 version of this processor includes the expected matrix mixers, delay lines, parametric EQ's, and routing functions as well as specialized DSP components developed specifically for AFC applications. While one card slot of the AFC3 processor hosts a card dedicated to the FIR processing functions, the remaining three MY-card slots provide the fi rst 22 channels of outputs to the AFC system. Additional AFC3 units may be added and linked to the master unit for additional outputs.
AFC FIR Card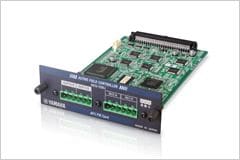 The AFC-FIR card is used to realize the high density of FIR processing that was not previously possible. AFC3 systems with the AFC-FIR card are capable of working with FIR filter sets that contain 125 times as many taps as previous AFC systems. This increase in the size and density of the FIR filter sets available make it possible to achieve much longer increases in a room's natural reverberation time without unnatural sounding artifacts.
Surface Mount Speakers: VXS Series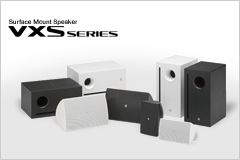 From Yamaha's Commercial Installation Solutions line of products, the VXS8 is a full range, 2-way surface mount speaker compatible for AFC installations. Based on an 8" low frequency driver with 1" dome tweeter, the VXS8's multi-tap transformer includes a low impedance tap for 8Ω operation suitable for AFC projects. The VXS8 comes in black or white and includes a mounting bracket with adjustable pan and tilt for safe, easy installation from a wall or ceiling and is IP45 rated for outdoor applications. Great sound and flexible mounting hardware make the VXS8 an excellent option for surface mount speaker applications in AFC projects.
The VXS10S surface mounted subwoofer is equipped with a 10" dual voice coil driver to provide extended low frequency response in appropriate AFC applications. Available in black or white, its relatively compact size and included wall mounting bracket facilitate discreet placement as part of an AFC project when subwoofers are required.
Ceiling Speakers: VXC Series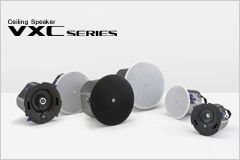 From Yamaha's Commercial Installation Solutions line of products, the VXC8 is a full range, 2-way ceiling mount speaker applicable for AFC installations. Based on an 8" low frequency driver with 1" dome tweeter, the VXC8's multi-tap transformer includes a low impedance tap for 8Ω operation suitable for AFC projects. The VXC speakers are self-enclosed so a separate back box is not required. The VXS8 comes in black or white and includes a folding mounting ring to facilitate mounting from below the ceiling when access is limited. High performance and fast, simple installation make the VXC8 a great alternative for ceiling mount speaker placements in AFC installations.
Power Amplifiers: XMV Series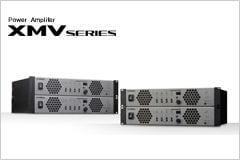 XMV Series multi-channel power amplifiers combine Class-D efficiency with features designed specifically to benefit commercial installation sound systems. The Series is comprised of 4 different models with varying output power capabilities and flexible in/out connectivity to accommodate a wide range of installation environments.
S8AFC and S8AFC-D (*distributed in US only)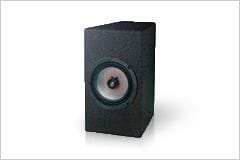 The S8AFC has a wide dispersion characteristic so the loop the feedback process works effectively and the listener cannot localize to the sound from the enhancement speakers. The specification of the speaker is effective for "natural changes" of the AFC system.
The S8AFC-D is an 8", coaxial, two-way loudspeaker with built-in crossover network and push-button terminals. The S8AFC-D is intended to be mounted within a standard back can with an internal volume of ~1 ft3 for ceiling mount applications.
The S8AFC is Yamaha's speaker enclosure incorporating this same 8", coaxial two-way driver. The enclosure is black and includes mounting points to facilitate use of standard "U"-brackets from manufacturers such as Allen products for mounting.
The S8AFC can be used for mounting positions on walls, ceiling surfaces, or suspended from ceilings in positions where a conventional back can / ceiling speaker type mounting is not practical.
The colours and finishes shown may vary from those on the actual products.