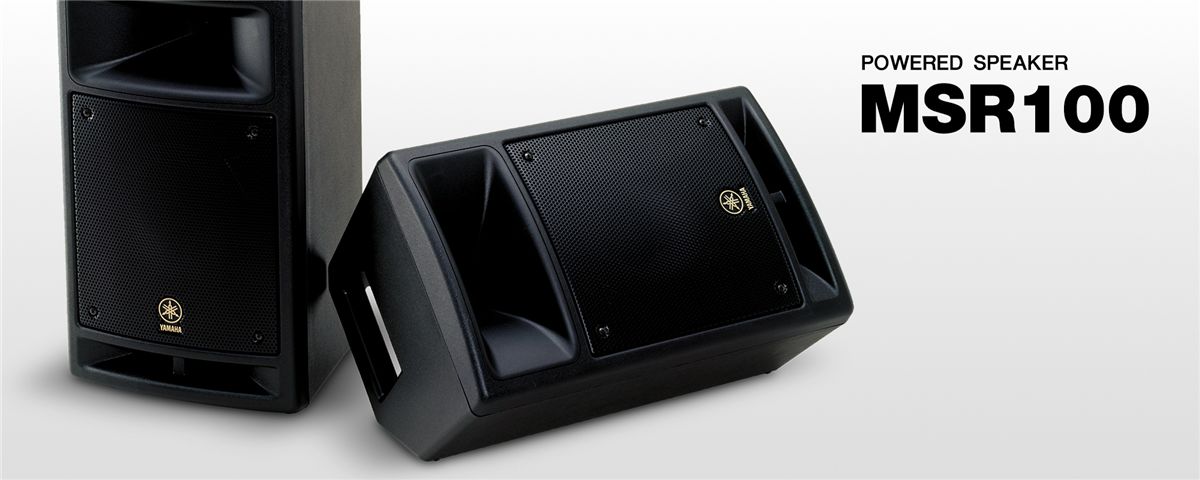 MSR100

Powered Speaker Discontinued
A Versatile Performer
A Versatile Performer
The MSR100 fills a variety of sound reinforcement and stage monitor needs in one economical, lightweight package. Offering mixer, power amplifier, and speaker system in a single, compact unit, it's perfect for small events and club gigs. Mix the output from a CD player, rhythm machine and/or keyboard with your voice without having to use a separate mixer or power amplifier. The MSR100 provides the high-quality performance you need with exceptional ease-of-use and reliability.
High Power, Great Sound
High Power, Great Sound
The 100-watt power amplifier built into the MSR100 delivers plenty of punch so you'll be heard with full dynamic range and clarity. This specially designed amplifier has been optimized for use with the MSR100 speakers to provide the clearest, cleanest sound possible. An 8" custom woofer handles the low frequencies, while a 1" titanium diaphragm compression driver delivers the highs. The high-frequency horn features wide 90o x 40o dispersion for optimum audience coverage.
Flexible Mixer and Connections
Flexible Mixer and Connections
A selection of inputs and basic sound control features make the MSR100 ideal for small events and club gigs. A simple but effective mixer built into the rear of the unit provides 3 inputs with master EQ for sound control. The "Input 1" XLR connector accommodates almost any microphone or line input (with a -50dB/+4dB pad switch), while line sources can be connected to the "Input 2" and "Input 3" phone-jack connectors. Naturally, each input has its own level control, with a master level control for overall output. Two-band EQ gives you further control over the final sound. A convenient clip indicator alerts you if the input signal level is too high, so you can reduce levels to avoid distortion. For larger events the MSR100's special link out jack can be used to connect multiple units for higher power and expanded coverage.
A Range of Placement Options
A Range of Placement Options
The MSR100 is compact, lightweight, and ready to go anywhere. A built-in handle makes handling easy. You can stand the unit upright for conventional sound reinforcement, or lay it on its angled side for use as a floor monitor. The MSR100 is as rugged as it is versatile, with a durable polypropylene enclosure that stands up to the rigors of the road. A variety of mounting options allow pole mounting, ceiling suspension, or wall mounting, and you can safely stack multiple units on the stage.