New Zealand's latest House of Worship solutions powered by Yamaha
New Zealand's latest House of Worship solutions powered by Yamaha
Intec Systems recently completed major upgrades to the audio systems of two of New Zealand's largest churches. Both installations were required to be easily re-configured depending on the requirements of each service with Dante providing the ideal connectivity solution.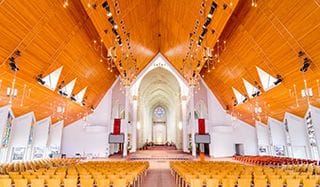 A Yamaha QL1 digital mixing console connected to RIO1608D i/o racks was selected to handle mixing duties whilst an extensive MTX and XMV system was configured for signal processing in Auckland's prestigious Holy Trinity Cathedral.
At the heart of the system, an MTX5-D processor with an EXI8 input expansion rack has been used to provide the Cathedral team with easy and intuitive configuration and control of both audio and lighting – all remotely controlled by a custom-built tablet application. Amplification is provided by multiple XMV-series multi-channel amplifiers connected and controlled over Dante by the MTX5-D.
Mike from Intec Systems comments: "One of our challenges was creating a system that caters for basic, small services that require automated operation while maintaining the flexibility required for the many high-profile events held in the Cathedral. The Yamaha MTX5-D has proven excellent for the job seamlessly integrating Dante digital audio and analog inputs and outputs".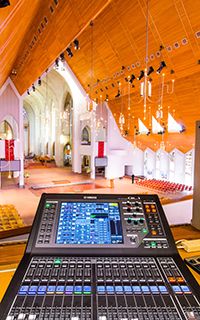 An equally impressive and integrated solution was also installed by Intec Systems at City Impact Church North Shore, Auckland. The productions hosted at this spectacular church venue are immense and demand exceptional equipment to ensure smooth operation and the highest sound quality.
A fleet of CL5, CL3, CL1, QL5, Rio3224-D and Rio1608-D provide the necessary mixing requirements for these incredible productions whilst MTX5-D again provides system processing made possible via the Dante digital audio protocol.
New Zealand's latest House of Worship solutions powered by Yamaha