Steam wirelessly with Bluetooth® audio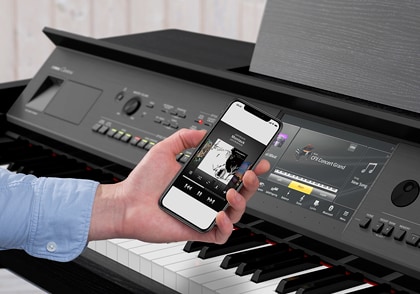 Steam wirelessly with Bluetooth® audio
You can play music through the audio system on the Clavinova by using a Bluetooth-enabled smart device. Enjoy playing along with any songs on your smart device as you stream audio such as mp3 files.
Multi-track Song Recorder
Multi-track Song Recorder
The recording function featured in Clavinova digital pianos allows you to record your performances* with a single touch, which is useful when you want to review your playing objectively. Additionally, you can record up to 16 tracks for simultaneous playback, so different hands can be recorded separately or overdub parts with different Voices.
* Recordings are made in MIDI format, and can also be recorded to USB flash memory. Compatible software is required for playback of recorded data on a computer.
USB Audio Recorder
USB Audio Recorder
Record performances to USB flash memory and create audio files* you can save and play back on a computer, share with friends or create a CD.
* Data is saved in WAV or mp3 format
USB Connectivity

USB Connectivity
Connect the Clavinova to a computer or a USB memory device to manage your library.